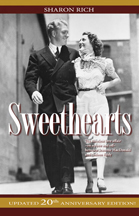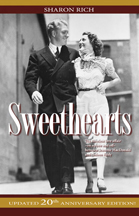 As new documentation continues to surface regarding the lives of Jeanette MacDonald and Nelson Eddy, we will post on this page a list of links to items of interest for those who have read the 2014 edition of  Sweethearts.  These may be articles, photos, audio files and/or videos. The links are listed with the book chapter in which they fall. New information and minor corrections are also noted here as well.
This page will be updated as time permits and new information is available.
Anyone who has read earlier editions of the book are urged to read the 2014 version which has a tremendous amount of truly vital new information.
The paperback edition is available at this link and the Kindle ebook version from Amazon here.
Chapter 2
Nelson's handwritten letter to Jeanette, November 1934: "You're the grandest person in the world"
Chapter 8
Intimacy and Jeanette experiencing Nelson's temper
Chapter 9
Nelson's handwritten letter to "Dearest Jeanette…I love you…", Christmas 1935
Chapter 11
Nelson and Jeanette on a date together
Chapter 12
Nelson: A lively "corpse" in "The Girl of the Golden West"
"The Girl of the Golden West": "Obey Your Heart" – what to watch for
Chapter 13
The Gene Raymond connection, part one
The Gene Raymond connection, part two
Chapter 15
Jeanette's fall on the stairs in "Sweethearts"
Pregnancy photos and more about late 1938
Chapter 16
Nelson's Chase & Sanborn broadcast three days after his marriage
Chapter 17
New documentation about their "New Moon" reconciliation
Chapter 18
Jeanette secretly joins Nelson in Washington, D.C. when he sings at FDR's Inauguration
Chapter 22
"My Wonder One" – Nelson's song to Jeanette
Chapter 23
Norma Nelson, "The Electric Hour" script-girl
Chapter 26
Nelson's bitterness and song message, 1952
This is Your Life – what to watch for
Chapter 28
Nelson letter: "Give her my continuous love."
Jeanette's handwritten 1963 desk diary verifies the reality of her married life and the abuse and neglect in her sad last years
Chapter 29
Jeanette's death – Nelson's reaction
More on Jeanette's death and her "camp's" attitude toward Nelson
Chapter 30
Afterward
Blossom Rock's friendship with the author
Blossom Rock: two days before her death