Betty Jaynes made her live opera debut at 15 and then had a brief career at MGM. She married fellow singer Douglas McPhail in 1938 when they played the young Jeanette and Nelson understudies in Sweethearts. The following year they co-starred with Judy Garland and Mickey Rooney  in Babes in Arms. After that, neither of their movie careers took off. Betty didn't have the fierce drive to be a star and was happy to raise their daughter, Joan Lorraine McPhail, born in January, 1940. She settled for mostly uncredited singing spots in a few more MGM musicals. Douglas McPhail, however,  took their failure at MGM very hard. He enlisted in the Army, fell during basic training and was bedridden for eight months. MGM dropped him and he worked part time as a gardener. He became an alcoholic and was physically abusive to his wife. Betty revealed it was Mayer's insistence that they divorce. Doug subsequently made two suicide attempts; after downing poison the first time, he changed his mind and called for help; the second time he didn't. He died at age 30. Betty had subsequent marriages and two more children.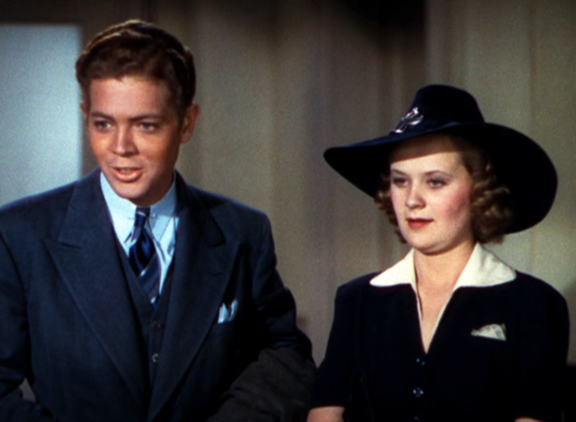 I interviewed Betty in her unpretentious Santa Monica apartment on June 18, 1983. We met after she saw Sweethearts in a revival theater, curious to see it again after 40+ years. She was a petite, grandmotherly looking woman, a gentle soul still with a girlish quality. She showed me her scrapbooks from her early opera career but didn't seem to have that much from MGM. She apologized that she didn't remember a lot about the making of that film as she was still in studio school and wrapped up with her romance and marriage to Doug. I found it ironic that the studio forced her to divorce Doug because of his drinking and abuse yet was happy to let Jeanette stay with Gene Raymond, who gave her a black eye during the filming of Sweethearts. Betty divorced Doug in 1941 and sole custody of their daughter. I will never forget the VERY long pause before Betty confided that divorcing Doug was not necessarily her wish. What was left unsaid was whether she thought Doug would have lived and turned his life around if they'd stayed together. Betty Jaynes lived to age 97. This excerpt is from Issue #32, in which the entire interview was published; we'd looked at newspaper clipping and articles and discussed them, plus I asked her about other cast members and opera singers she'd known. Article copyright ©1996, 2006 by Sharon Rich, all rights reserved.
Sharon Rich: Please give us a brief rundown how you got started as a singer and ended up at MGM.
Betty Jaynes: I was born in Chicago and lived there till I came to California…. In December of '36, I made my debut [as Mimi] in La Boheme – I was fifteen – with Giovanni Martinelli. From that I did concerts and then some radio shows, like Bing Crosby. And then I was interviewed and my picture was in the paper. They asked me who my favorite singer was, Rosa Ponselle or Jeanette MacDonald? I said Jeanette MacDonald. Maybe that's why they took me to meet her that day when I finally came out here. But anyway, we were offered a contract at MGM. My mother was a widow and that's what she chose to do, pack up our little family and come to California. That's how I got to MGM; they bought out my contract with Columbia Artists.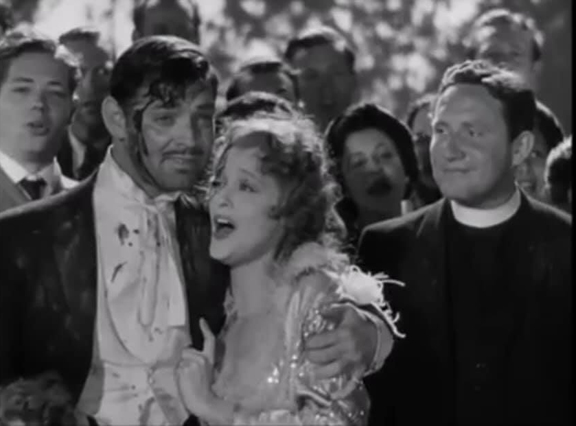 [Doug had already been mentored by Jeanette and had uncredited walk-ons with her, marching and singing at the end of San Francisco  – see him standing next to Clark Gable in this screenshot; he also was a reporter in Maytime.] Of course, I wasn't in Sweethearts that much. But I did get to know both of them because we all recorded together. Even though it's a small part, it would take a lot of time to record all that. As I recall, Jeanette and Doug, it took them awhile to make the recordings in those days. As for myself and Nelson Eddy, we were at our best in the beginning, but we would record all day like that. So that was the fun part.
SR: Did you film a lot more scenes than what you saw in the film? Were a lot of them cut?
BJ: I don't know, I would doubt that….Really, the singing part was just in that montage…. I sang quite a lot more in Babes in Arms. I had a wonderful time because these were all my friends from school. Despite working and doing broadcasts, you still had to have so many hours of school…. When you were at the studio, you had a drama coach and a speech coach, you took dancing, and there was a special little cottage where the young people could go and stay. They had things going on all the time.
SR: We you married to Doug at that time?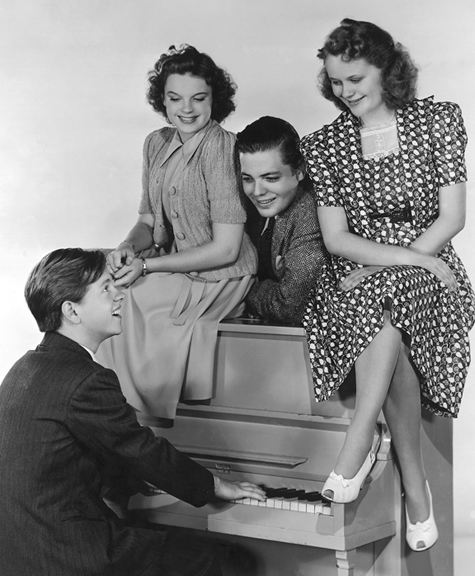 BJ: We were separated. We may have been divorced. I guess we were divorced at that time. The studio tried very hard to help him… but he was a violent person when he drank and so, at that time, people sort of ran your lives. I was awfully young and I really didn't know what was going on. And they felt it was best, as I recall, to divorce him. I'm sure, in the end, it was the better thing. But I might not have done that, left him of my own devices. [Long pause] Anyway, that was it. I remarried.
SR: Did you do more singing after the studio years?
BJ: No, I really didn't. I studied for quite awhile, part of the time in New York, but I never really got that involved in opera again. I was settled here, and with the children it was my choice to be wife and mother. I've never been sorry with that decision. I enjoy my life.
SR: You don't have to apologize! [Laughter]
BJ: I'll tell you something. When I have read stories or heard about Judy Garland, who I saw a few times after we'd all grown up, I read about her drugs, starting when she was a kid…. I feel very fortunate that I never got caught up in any of that. My memories are more of  being with Jeanette and Nelson. I remember going to Mr. Mayer's every Sunday…. Judy and I would walk through his house; it was unbelievable. We'd never seen a marble bathroom or a marble bathtub. We'd walk around giggling like two little kids.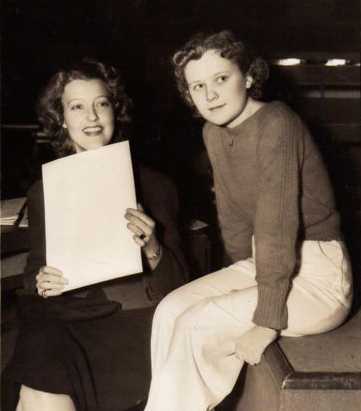 SR: What did you think of Mayer?
BJ: Well, he was very good to me. Now, I've heard stories about L.B. Mayer and about girls; if it's all true, it never happened to me.
SR: What were your impressions of Jeanette and Nelson as people?
BJ: She was my idol…. She was my favorite singer. She was a very lovely lady and she was always very nice to me. Now, if she and Nelson bickered or anything, it was all over my head. I know that I was at Jeanette's house a couple of times, when she was married to Gene Raymond, but why I was there, I assume she was just having a party and I was invited… I don't recall going to Nelson's house at all…. [Doug] did study with Nelson's teacher, Dr. Lippe, for awhile. I can remember going with him.
I wasn't happy in films…. I was very shy. And I had an inferiority complex, not at the beginning but as time went by.
SR: Jeanette was hospitalized during Sweethearts. Did you know about that?
BJ: I may have then. If I did, I've forgotten about it.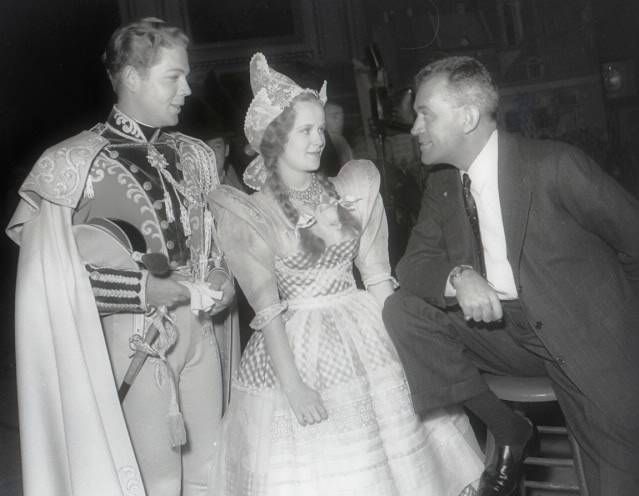 SR: What about Woody Van Dyke? How was he to work with?
BJ: I really don't remember. I know that I liked him. And Herbert Stothart [MGM musical director] was such a talented man. I really liked him. He's been highly underrated as a film composer.
SR: How did you do the recordings?
BJ: We recorded first and then mouthed it while filming.
Click here to read other articles.
Photo of Jeanette and Betty Jaynes from the Maria Escano collection.