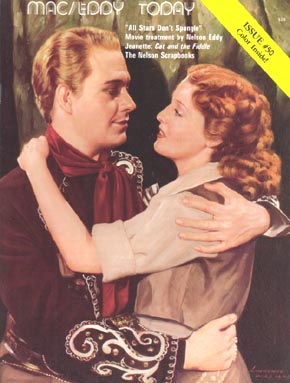 Read  selections from back issues of Mac/Eddy Today magazine, excerpts of first-hand accounts of the MacDonald-Eddy romance plus other documentation pertaining to their lives or careers. The complete, unedited interviews are found in the referenced magazines.

Click on other articles: Sandy Reiss Interview, Eyewitness Accounts,  Genealogy – Nelson Eddy and Jeanette MacDonald, K.T. Ernshaw Interview, Nelson Eddy Drive, Miliza Korjus Interview, John Pickard Interview,  Al Caiazza Interview, Frank Laric Interview,  Rise Stevens Interview, Lawrence Tibbett, Jr. Interview
Note: Nearly every issue features an interview with a celebrity or someone who knew Jeanette or Nelson. You can see the in-stock magazines here and the out-of-print ones that have been reprinted in the Mac/Eddy Today Book Compilations here. There is a package price for all 15 volumes of the Mac/Eddy Today Book Compilations or for the best deal click here to get the complete set of all Mac/Eddy Today issues ever published!