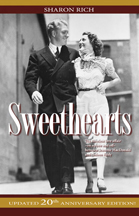 Sweethearts, first published in hardback in 1994, was updated in 2001, and on May 1st, 2014, a completely updated and revised 20th anniversary edition was released in softcover. This best-selling book is the true story of one of Hollywood's greatest cover-ups — the love affair between Jeanette MacDonald and Nelson Eddy. Known as "America's Singing Sweethearts" of the 1930s and 40s, MacDonald and Eddy made eight box office hits together for Metro-Goldwyn-Mayer and became the most popular singing team in movie history. Rumor had it that they hated each other off-screen, but the truth was that they wanted to marry, thwarted only by their studio boss, Louis B. Mayer. Both eventually married others, but their love for each other never died, driving them to self-destruct their careers, health, and ultimately their lives.
Author Sharon Rich had her first book published by Times Mirror at age nineteen. Since then she has authored a total of five books about MacDonald and/or Eddy, and has written hundreds of pages of articles and/or edited magazines dealing with film history, film preservation, MacDonald and Eddy, and opera. She has lectured here and abroad, and has been featured in radio, television, and newspaper articles. The book Sweethearts was officially released at a special event hosted by the American Film Institute in Washington, D.C. In 1995 Rich was awarded a Dame of Merit by the Knights of Malta for her contribution to History and Literature. Rich is considered by many to be the leading authority on MacDonald and Eddy in the world, and is responsible for a massive ongoing project that has located and preserved the hundreds of hours of MacDonald/Eddy radio shows and private home recordings.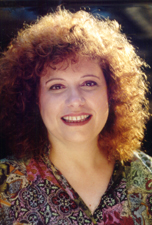 Sweethearts is the result of two decades of research. The project began when Sharon Rich met Jeanette's older sister, Blossom Rock, the actress who played the grandmother on "The Addams Family" TV series in the mid-sixties. During their nine-year friendship (until her death), Blossom introduced Sharon to numerous friends and colleagues of her sister and Nelson Eddy. At the tail end of her research, Sharon was contacted by a woman in the midwest who for fifty years had kept in her possession hundreds of hand-written letters from a correspondence with Nelson Eddy's mother, that told in great detail of the star-crossed relationship between Nelson and Jeanette. Included in the correspondence were copies of Nelson's love letters to Jeanette (and vice versa), personal diary entries, and unpublished memoirs, in short, an unbelievable treasure trove that proved once and for all that the love affair Hollywood had so long denied ever existed was one of the great romantic tragedies of the twentieth century. This woman had never shown anyone the letters, but secretly hoped that some day a writer could be trusted to tell the true story, and she turned the letters over to Sharon for use in Sweethearts.
Sweethearts is based on 200+ interviews with friends, intimates, family, co-workers, lovers and co-stars. Included among her more famous sources were MGM stars Rise Stevens and Miliza Korjus, opera stars Rose Bampton, Helen Jepson and Theodor Uppman, MGM co-workers William Tuttle and Fred Phillips, and U.S. Senate Chaplain Richard Halverson who, in his youth, was Jeanette's butler/chauffeur and had occasion to observe her interaction both with Nelson Eddy and Gene Raymond. The MacDonald/Eddy fans always fervently hoped that their idols loved each other and they will not be disappointed. Sweethearts is one of the great, tragic love stories of Hollywood's Golden Era.