Q: How can you claim that Jeanette was born in 1903 when her passport and even her crypt gives the birthdate as 1907?
A: Her baptismal record gives the correct date, June 18, 1903 as well as the original spelling of her name, Jeannette. (Her birth certificate does not exist in the Philadelphia records. ) Also, she wrote the correct birthdate in the family genealogy records kept by her first cousin, Esther Shipp. Plus, her older sister Blossom verified that when she got Jeanette her first job, she chopped 4 years off Jeanette's age, telling the Broadway producer that Jeanette was 13 rather than 17. Lots of movie stars lied about their ages. We were the first to give Jeanette's accurate birthdate and were roundly criticized for it mainly by Jeanette's fan club and her widower, Gene Raymond… but now people have come around, agreeing the 1903 date is accurate. Click here to see the baptismal record.
Nelson was two years older than Jeanette. He was born on June 29, 1901.
---
Q: What were their early years like?
A: Nelson was born in Providence, R.I., an only child. His parents' marriage was shaky. According to the later divorce hearing transcripts, the father was abusive to both mother and child. He drank and could not hold down a job. They were forced to move frequently. In 1915, Nelson's father walked out, leaving Isabel Eddy ill and with no support. She took Nelson to Philadelphia to stay with her mother. Nelson dropped out of school to go to work. He lied about his age and experience to get various jobs, but always wanted to sing. In his twenties he found mentors to fund his voice lessons and study in Dresden. With his good looks and fabulous voice, he began giving concert tours, singing operas and doing radio shows. He rarely got a bad review and women flipped over him. By the time he signed with MGM in 1933, he was considered the greatest American baritone next to Lawrence Tibbett. (For an in-depth study of his opera career, see the book Nelson Eddy: The Opera Years.)
Jeanette was born in Philadelphia, the youngest, prettiest, and "unplanned" third daughter. As a child she hated school and only wanted to perform. She sang and danced in local kiddie revues, trained to sing opera, dropped out of high school and followed big sister Blossom to Broadway.
Jeanette's father died young and had never been really successful in business. The oldest sister, Elsie, had eloped and was raising a child. Blossom and Jeanette became the sole support of the family. In time, Blossom started a vaudeville act with her husband, and later came to Hollywood as a character actress. Jeanette became the star and chief breadwinner in the family, living with her mother until her marriage, as Nelson did.
In the 1920s, Jeanette was a Broadway star in musicals that flopped. But her notices were usually good and in 1929, movie director Ernst Lubitsch spotted her. After an interview conducted in his hotel suite, Lubitsch announced he'd found the star for his next film, THE LOVE PARADE. Jeanette came to Hollywood, was teamed in her first of four films with Maurice Chevalier, and her movie career took off at Paramount. In the early '30s she sang in Europe, then returned to Paramount before being wooed over to MGM. She was back in Europe singing on tour in 1933 when she signed her new studio contract, around the same time Nelson signed in Hollywood.
The head of MGM, Louie B. Mayer, had been trying for years to get Jeanette. According to Nat Finston, Paramount musical director at that time, "Mayer never gave up on getting Jeanette over to Metro, and the 'inner circle' at Paramount always talked about that. It was sexual. He was crazy for her."
Had it not been for Mayer's obsession with Jeanette and the "eternal triangle" that developed once Nelson Eddy entered the picture, their lives might have turned out very differently.
---
Q: When did they really meet? Others say they met just before filming NAUGHTY MARIETTA (which started shooting in late 1934).
A: Let's look at the facts. Both of them gave varying details as to how they met. Jeanette claimed she looked at different screen tests and chose Nelson (which is a partial truth) but in fact Nelson was not tested for NAUGHTY MARIETTA until AFTER they had met. Nelson claimed that 1) he first saw her on THE MERRY WIDOW set and 2) they were formally introduced at a party. Both, actually, appear to be true. Jeanette was indeed recording and doing costume fittings for THE MERRY WIDOW around this very time though filming was delayed due to negotiations with director Ernst Lubtisch. According to the Isabel Eddy unpublished memoirs, the party that they were formally introduced at was given by Mrs. Frank Lloyd (Lloyd was a film director of such hits as MUTINY ON THE BOUNTY.)
Though we don't know the exact dates of either of the above, we DO know that they both sang on a radio tribute to Marie Dressler on November 9, 1933. On November 21st, Jeanette caused a commotion at Nelson's Los Angeles concert by walking in late, while he was singing. On November 22nd, Jeanette insisted that her then-fiancé and manager, Bob Ritchie, take her to San Francisco where they attended Nelson's concert there. Nelson's contact expired at the end of December but on January 4, 1934, the Hollywood trade papers announced that Nelson would remain at MGM to co-star with Jeanette in NAUGHTY MARIETTA.
On January 8, 1934, Jeanette attended Nelson's Santa Barbara concert. Nelson then left Hollywood to tour while Jeanette filmed THE MERRY WIDOW. It was around the spring of 1934, according to a later letter by Jeanette to Bob Ritchie, that her relationship with Ritchie "changed." And during the summer and afterwards, Jeanette continued to attend Nelson's performances around the Los Angeles area.
How close were they? We do know (from Isabel Eddy's unpublished memoirs) that after their first date Nelson told his mother he was in love with her and he proposed to her "within a week." Jeanette obviously turned him down. Now–this behavior was typical of Nelson, he impulsively asked other women to marry him after only knowing them for a short time (newspaper reporter May Mann comes to mind, when Nelson was on the rebound from Jeanette in early 1937). But in Jeanette's case he didn't give up so easily. When he returned from touring in May, 1934 he was again seeing Jeanette. How do we know that? Check out this photo, taken around the time Nelson shot his scene for the film STUDENT TOUR. Nelson has a mustache, not a very impressive one, but the best he could do, I guess! The only time he grew a mustache was for that film, and he filmed his number around June of 1934.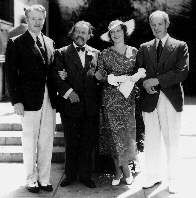 Here's another photo, from approximately a month before. How do we know that? Two reasons. 1) Nelson didn't return home from tour until May and this photo is shot in his back yard. 2) If you look at the blow-up of his face, you will see the beginnings of the mustache. Now — in the main photo, you see Nelson with his mother Isabel and the dog given to him by Jeanette. How we know Jeanette gave it to him?
.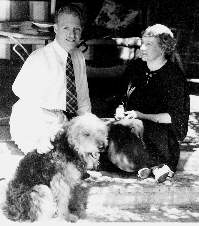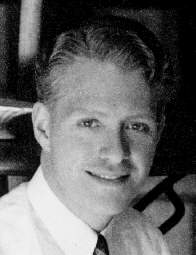 Because Nelson said so, in interviews. And also, here is a picture of Jeanette with the forerunner of Nelson's dog. No mistaking the pedigree! And if you look closely at the license plate on the car Jeanette is standing next to, the year is clearly 1934.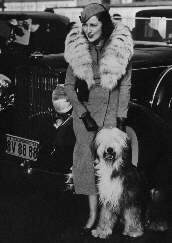 And here's another shot of Nelson with the same dog from 1935. We can tell the year both from the style of his haircut and his hair color, which was darkened for NAUGHTY MARIETTA and ROSE MARIE, which was shot in the fall of 1935. (Nelson was actually a redhead who prematurely whitened, giving him a "blond" look.)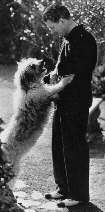 If you are a dog-lover (as Jeanette was), you know that you never just give a beloved dog or puppy away to just anyone. That person has to be, at the very least, a good friend whom you trust to bring up the dog with loving care. It's a very personal thing and more like something she would do for someone she really cared about. We know Jeanette was not in the habit of giving her other co-stars dogs, especially BEFORE she worked with them.
Jeanette and Nelson sang together at the Hollywood Bowl on June 25th and the Biltmore Hotel and June 26th. Both were fundraisers organized by Marion Davies.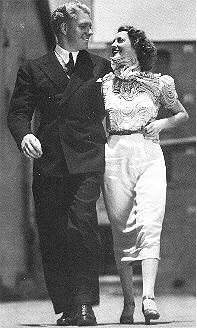 To sum up, Jeanette and Nelson had known each other for about a year and were certainly not strangers when filming began on NAUGHTY MARIETTA.
---
Q: What was their relationship during NAUGHTY MARIETTA?
A: It seems to have been strained for most of the filming. If you study the dozens of candid photos taken on the set, you will find Nelson sitting either with director Woody Van Dyke or his voice teacher, Eduard Lippe. Jeanette generally poses with Woody or by herself. Here is one of the few shots where Jeanette and Nelson are together. The warmth and familiarity that you will see in later candid shots is missing here.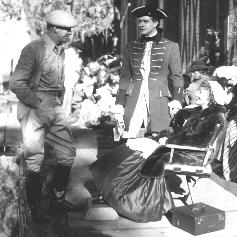 Jeanette and Nelson had a falling out before the filming, and both tried to drop out of the film, letting the other one stay in. The filming wasn't easy. Nelson was awkward and his attempts to "act" tried even the patience of Woody Van Dyke. He also tripped and fell a few times, causing the crew to laugh at his klutziness. Jeanette finally jumped in to the rescue, giving him a crash course in filmmaking and helping him through the rest of the filming. He later thanked her profusely in endless interviews for saving his hide and credited her for his being a success in movies.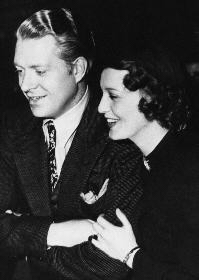 After NAUGHTY MARIETTA several projects were considered for them, one of them being LET FREEDOM RING, which Nelson filmed without Jeanette four years later.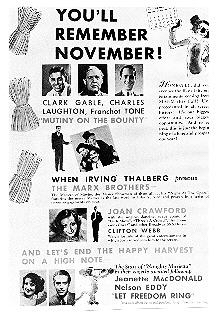 ---
Q: Who were their friends?
A: Nelson was friends with Jean Harlow and Clark Gable, though he claimed that he didn't see Gable after the MGM years. We've never found a photo of them together. We did find one with Harlow. Jeanette, by the way, had known Harlow since 1929 when Harlow had a small part in Jeanette's first movie, THE LOVE PARADE. When Harlow died in 1937, Jeanette and Nelson sang at her funeral.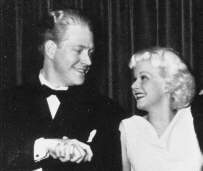 But their closest friend and ally was without a doubt their favorite director, Woody Van Dyke. He was there for them through thick and thin, once saved Jeanette's life, and was responsible for urging Nelson to "go to war" in 1943. How much did Woody love them? When he died in 1943, he requested not only that Nelson and Jeanette sing but that they officiate at his funeral, which they did. Here is a candid photo of them singing with Woody.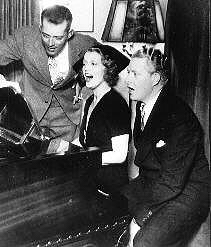 ---
Q: What were they like in "real life?"
A: Nelson had a shy, boyish quality that is still observable even in his last interviews and filmed TV appearances. He never outgrew it but in later years his interviews were often tinged with bitterness, often if the subject was money. He had a reputation for being mild-mannered and a gentleman. Yet he had a violent temper, which he admitted in a 1960s interview. Click here to listen. His childhood left scars; he was a "mama's boy" and lived with her until his marriage at age 37. He hated the idea of divorce and/or press intrusion into his private life. He would sometimes snatch cameras out of paparazzi's hands and smash them.
When Jeanette was exposed to Nelson's sudden blind rages, she described him as having a "Jekyll and Hyde" personality. This is one of the reasons she hesitated about marrying him. He was also prone to depressions and "black moods." As you will see, his ability to sing well and not fall ill on concert tours was in direct proportion to how happy his personal life was at the time. He was also severely nearsighted and wore glasses off-screen. Here's a shot of Nelson relaxed, happy, without globs of makeup on and at his most natural.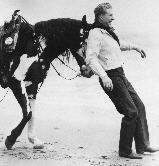 Jeanette was a true Gemini. On the one hand, she was "The Iron Butterfly," a fierce businesswoman who rarely made a misstep when it came to her career. Many felt there was no more depth to her than that. But, as Nelson said, "If she was like that I 'd never have spent five minutes with her. When we're alone she's a totally different person." As you will see, she seems softer and more girlish in the photos with Nelson. The "helpless female" side of her was more in evidence as well as the flirtatious quality that drew men to her. Such was the dichotomy in her whereby one person could call her "a bitch" and another one call her "an angel," and both be right, according to their experience. Here is an early photo of Jeanette, her mother and older sister Blossom, who used the stage name of Marie Blake in her many Hollywood films (such as the Dr. Kildare series).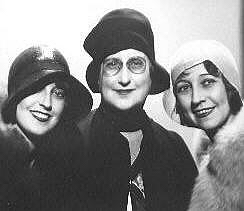 Blossom later became a TV star in the 1960s using her married name, Blossom Rock, playing "Grandmama" in THE ADDAMS FAMILY. Over the years, Blossom talked to several people about the Jeanette-Nelson situation, including me! Ironically, Blossom died 13 years to the day after Jeanette.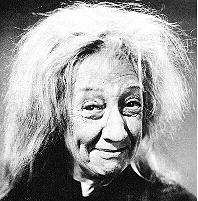 Jeanette in adulthood was a caring, loyal person who, per her own admittance in a late interview, claimed she'd made a mistake when she ultimately had to choose between love and a career. In a few interviews she said her greatest regret was not having children.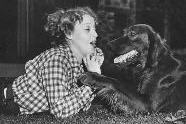 ---
Q: Did Jeanette and Nelson date outside of
the studio?
A: Yes, of course, especially after NAUGHTY MARIETTA's release. There were many blurbs about them being in Hollywood's hot spots together, although they were not often photographed. This was due more to Nelson's reluctance to have his private life exploited than anything else. But — happily, there are a few photos of them together on dates together.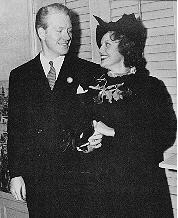 Click here to go to the next page.
Click here to get the complete Interactive Biography.
---
(c) 1999, 2000, 2005 by Sharon Rich. All rights reserved. All quotes were originally published (with their sources documented) in the book "Sweethearts," (c) 1994, 2001 by Sharon Rich. All photos are from the author's collection and have been reproduced either in "Sweethearts" or issues of the magazine "Mac/Eddy Today" and are under appropriate copyright.