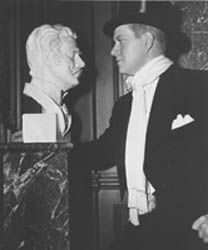 Along with being the most famous baritone of his day, Nelson Eddy was also a talented artist. He painted, sketched and sculpted. A few of his sculptures were used in his films.
The bust to the left was one of two that Nelson made for the movie I Married an Angel. If you look carefully you can see the two of them on show [supposedly his characters' ancestors] when Nelson rushes into his bank in an early scene of the film. Nelson also painted the large paintings of his "banker ancestors" hanging on the bank walls in that film though they are in the background and somewhat out of focus.
Nelson painted a number of portraits of Jeanette MacDonald over the years but none of them have surfaced. We have a description of one of them that he painted of her in a garden. You may be familiar with another one he painted of her that was used in the film Sweethearts.  See picture below.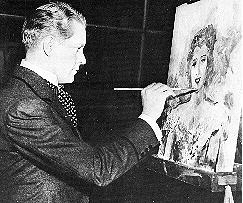 Some of Nelson's artwork was sold to his fans by his widow, Ann Eddy, after his death. Some of it she destroyed instead; based on her bitterness toward Jeanette we are assuming that none of the Jeanette paintings survived. Below are others that did – an unfinished clown, a nude, the red rocking chair and a landscape entitled "Remembrance of New England."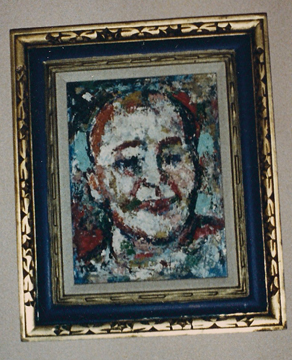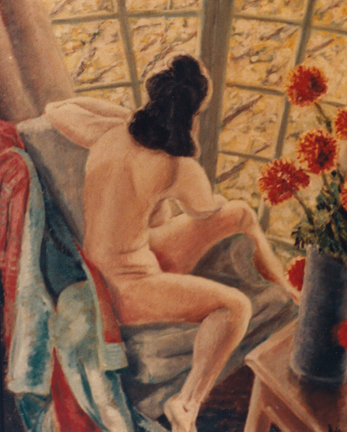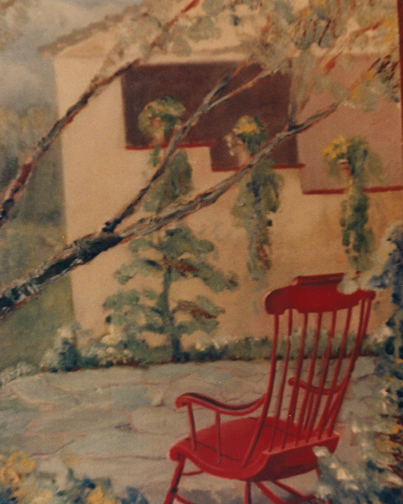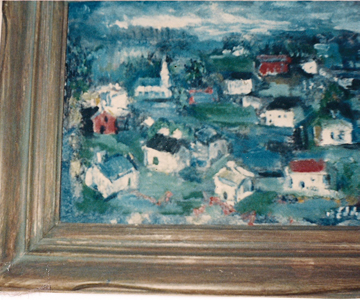 You can now own a Limited Edition bust replica sculpted by Nelson Eddy! A group of three busts done about the same time (1942) were located in a Hollywood sound stage that had been used for decades as a storage unit. A collector/dealer purchased the contents of the sound stage. He couldn't identify the subjects of the busts…or the signature of the artist… but his mother, a veteran of the Hollywood years, quickly did. We were soon contacted and were able to verify that they were Nelson's work since there existed photos of him sculpting two out of the three! And the third one, well, it didn't take a rocket scientist to identify both the subject and its artist's initials on the back – it was Nelson Eddy himself! Luckily we were able to purchase them, and found they were in surprisingly good shape and needed little restoration work.
As noted above, one is a life-size, self-portrait of Nelson. One is of Jeanette, and the third  is of actress Anna May Wong. All three were signed by Nelson on the back and the Jeanette one is dated. The Jeanette original is the only one not life-size. The photo below of Nelson sculpting Jeanette below shows it partially finished; we have the completed work. At this time, we are offering only the Nelson and Jeanette busts. Because people wanted a "matching" set of Nelson and Jeanette, we had Jeanette enlarged slightly to lifesize.
Note: our photos of these busts do not do the sculptures justice. It is difficult to photograph them "in person" and capture the real look of them. They are quite striking "in person".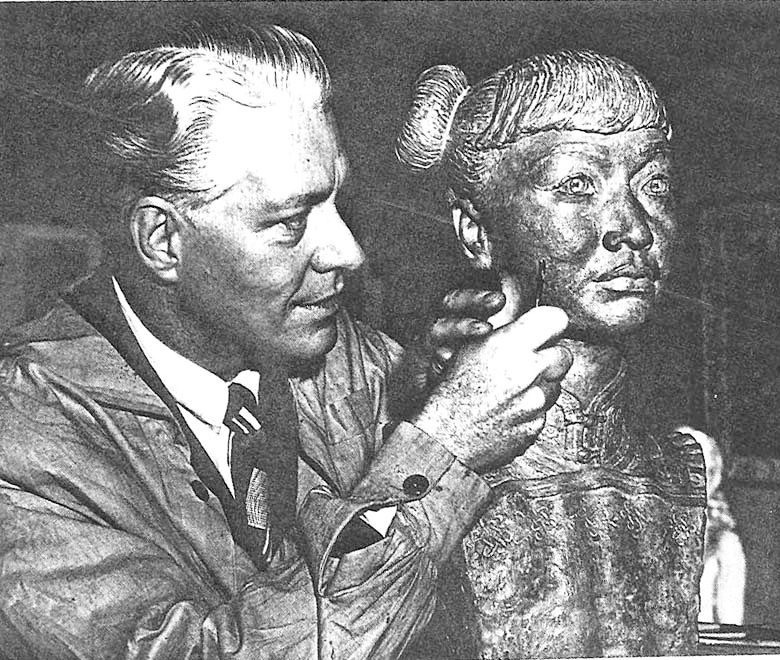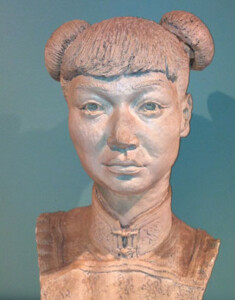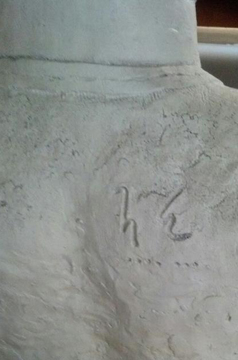 Above: Nelson sculpting Anna May Wong. Right, the finished product front and back, showing his initials and date which we assume means 4-3 or 1943.  All of his sculptures are similarly signed.

Below left, Nelson on the set of "I Married An Angel" working on the Jeanette bust. The hair was later finished and the entire bust painted in a bronze color, as you can see to the right. (This bust has been enlarged slightly so it is life size and thus a matching pair to the Nelson self-portrait bust below.)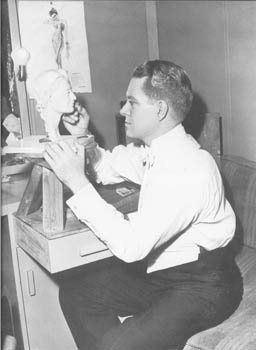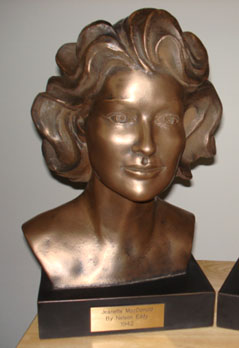 Below, Nelson's self-portrait. Each of the three busts is signed with his initials on the back.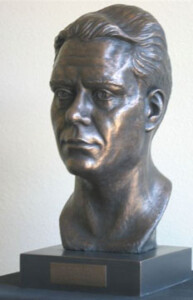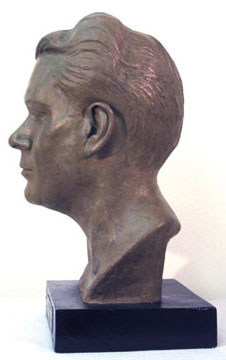 Please email if you are interested in owning replicas of any of these.