Rose Bampton was one of the great dramatic sopranos of the 1930s and 40s. She met, sang with and had a romance with Nelson Eddy when they were students at the Curtis Institute in Philadelphia. They also both signed with Columbia Concerts and co-starred (along with Robert Steel) in the US live radio premiere of Wagner's Parsifal which aired on March 31, 1931. Afterwards, Bampton signed with the Metropolitan Opera while Nelson went to Hollywood. Bampton was married to Canadian conductor Wilifred Pelletier, who worked with Jeanette MacDonald in her Canadian opera debut. Bampton in her retirement coached singers, both privately and at Julliard. This interview was done at her home in 1990 and she was thrilled to be given a CD (which we first released on LP and then CD) of an Act 1 excerpt of her Parsifal with Nelson, albeit in poor sound despite restoration attempts. This excerpt is from  Issue #41, in which the entire interview was published. The photo below shows Rose Bampton at a reception for Nelson in 1935. Article copyright ©1990, 2006 by Sharon Rich, all rights reserved.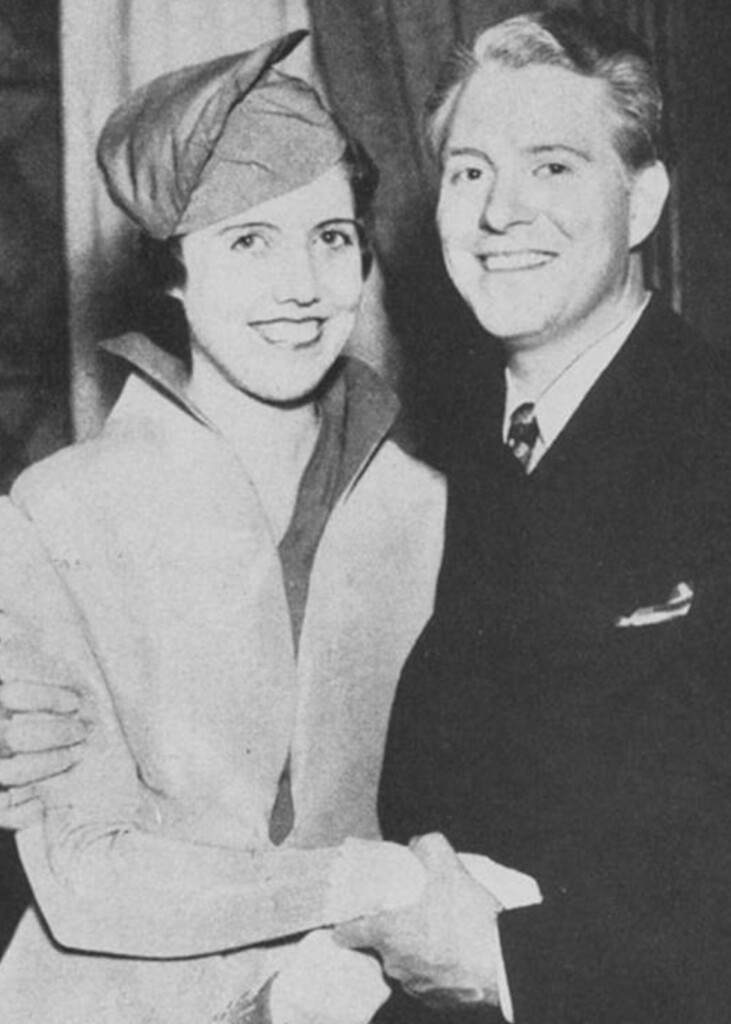 Rose Bampton: I didn't know there was a broadcast taped of Parsifal. Then some woman came up to me in New Jersey and said, "Did you know there is a record of you with Nelson Eddy? It's been written up in Opera News.
Sharon Rich: So that's how we found each other! You knew Nelson from his very first days as a singer.
RB: Of course, when I was at Curtis, Nelson was the handsomest young man and doing some wonderful singing, you know. This is long before he went to Hollywood. We had a great friendship. Now, Helen Jepson and I – Helen was a soprano and I was a mezzo at that time. We used to do quartets. Helen was closer to Nelson than I.
SR: Forgive me for asking, but you sound a little jealous?
RB: Let's just say Nelson liked me but he liked Helen more.
SR: I've heard that they had a hot and heavy romance for awhile.
RB: Yes, that's true. She was a very beautiful blonde…. Well, that's how I knew Nelson. Then later, he and I did joint recitals.
SR: Did anyone see Nelson's star potential in the early days?
RB: I think we all felt he had star potential. I don't know that we were thinking about movies at this time. We were certainly thinking about opera…. I remember he did many roles because I was there [in Philadelphia] from '28 to '32…he was very much in the forefront as a leading baritone.
SR: He dropped opera totally [in 1935]. He said later he preferred concerts to opera because he felt he was more one on one with the audience.
RB: Well, I understand that because I think a lot of us feel you get a quicker reaction – to the audience. For one thing, it's far more satisfying. Always was, to sing at concerts. Of course, it was exciting to sing opera but my real joy came from concerts.
SR: Did you ever meet Jeanette?
RB: Yes, many times. And she was a very great friend of Eleanor Warren. And so I met her many times.
SR: And she studied with your husband [Wilifred Pelletier] when she made her opera debut.
RB: Yes, she worked with Pelle and he conducted Romeo and Juliet. It was in Canada [Montreal]. And Pelle said she was absolutely marvelous. He said he never worked with an artist so eager to get things right. And he said she would stop and say, "Oh, maestro, that wasn't quite right, could we try it again?"…. Jeanette MacDonald started before the idea that anyone who made movies and was a movie star could be an opera star. She went the reverse way…. If Pelle said she was great, I would believe him over the critics. He was very honest.
Note: Despite a cute pout when discussing Nelson's dating Helen Jepson, at the end of our interview, Rose Bampton gave me Jepson's phone number and I subsequently did a phone interview with Bampton's "romantic rival."
Click here to read other articles.