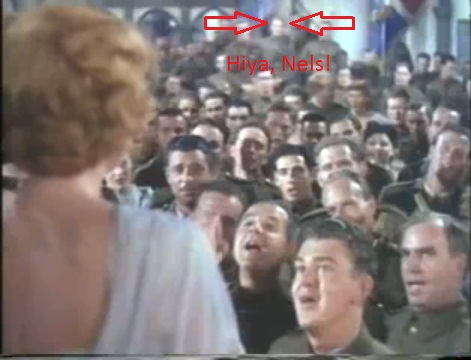 The movie Smilin' Through was screened this week as part of the Jeanette MacDonald 24-hour movie marathon on Turner Classic Movies. We wonder how many of you were able to glimpse an out-of-focus but obvious Nelson Eddy standing in the background along with the soldiers, listening to Jeanette sing. It was common knowledge that Nelson visited Jeanette on the Smilin' Through set as there are several candid photos of her in costume with him taken on the sound stage.
But… Nelson also apparently sneaked on-set to watch her while the camera was rolling and sharp viewers can see the guy next to him do a double-take.
If you missed seeing Nelson, the film was released this year on DVD and is available here. When you watch for Nelson's cameo, make sure the picture dimensions of your viewing screen does not cut off the top of the film. Nelson is taller than the others near him and depending on your TV format, it is easy to miss him.
Why did Nelson visit Jeanette on this set and sneak into the scene? We know that the song "Smilin' Through" was one of "their" songs – had special meaning to them long before Jeanette made this film.  For Nelson's Christmas gift in 1944, the song was one of 12 private recordings Jeanette made for him with special spoken introductions to each number (more details in the book Sweethearts).