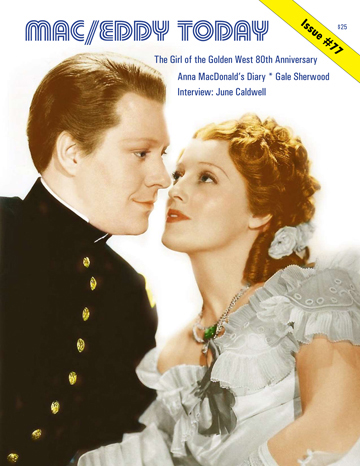 At long last, Mac/Eddy Today Issue #77  is available. We are placing a bulk order on Monday and to make sure we have enough in stock to fill orders, please order now.
Journal #77 features include: a new look at The Girl of the Golden West as it passed its 80th anniversary; an article about the death of Gale Sherwood, Nelson's nightclub singing partner for 14 years, and her significance in the latter years of the lives of both Nelson and Jeanette; an interview with June Caldwell, the last secretary of director Woody Van Dyke. Caldwell worked for him to the end, helped plan and attended his funeral and so as an eyewitness, sets the record straight on the exact participation made by Nelson and Jeanette; and the rest of Anna MacDonald's 1931 diary, which gives a very clear picture of how a movie star's mother (and stage mother) spent her days in Hollywood as her daughter worked. All these articles are filled with rare photos (including some of the last public photos taken of Jeanette) and the magazine is printed on glossy paper with gorgeous centerfold portraits of each star.
Note: as this is a pre-sale offer, our shipment of magazines should be received in about 10 days and those in the US should receive them before the end of this month. To take advantage of the discount, your order must be placed this weekend and your card will be charged. All magazines are shipped priority, worldwide.
If you want to order other magazines, books or calendars in the same order, please note in the comments whether you would like those items shipped now; as a courtesy, we will be happy to mail the new magazine later when it arrives and you save on shipping. This applies to the US only and is only valid this weekend.
You can order the magazine now at this link. Enjoy!