© 2005 by Sharon Rich. All rights reserved.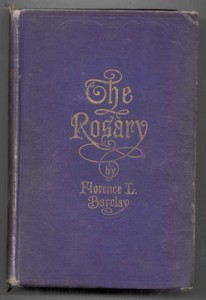 Left: an early edition of The Rosary, possibly resembling the book Nelson read in his youth. This new edition includes the full novel plus a lengthy introductory chapter by Sharon Rich, with photos and discussion of the Jeanette-Nelson correspondence over their hope to film the novel for their movie comeback. The Jane Eyre-type plot with both protagonists being singers (the heroine's nickname was Jeanette) seemed a natural fit for them.
FROM THE INTRODUCTION:

From surviving letters between Nelson and Jeanette during this period, we learn that Nelson first brought up the idea of The Rosary as a film vehicle for them, possibly in late 1947. Since Jeanette was unfamiliar with the book, it appears he gifted her with a copy of the out-of-print book—along with a pearl rosary—during a romantic rendezvous in Plattsburgh, New York, in February 1948. At any rate, we know from letters that Jeanette read the book for the first time during her 1948 concert tour….

From Chicago, Jeanette sent Nelson a letter discussing The Rosary.

"I have been so happy to have "The Rosary" with me. These are lonely days. What I can't understand is why you haven't read it to me before! It is such a beautiful story—and how can I pity poor foolish Jeanette when she was afraid to believe in her lover's love. I have had to weep such bitter tears over Garth too—he is so like my own darling was in that pride and deep hurt—I too wanted desperately to make things up to you before it was too late, but you wouldn't give me a chance. The story is so like the course of our own lives it was amazing. But I want it all read over to me again in your own voice, as soon as we are home alone.

"Please don't worry anymore. I know how hard this has all been for you and I promise never to be so much trouble again. You really didn't think, my darling, that I might lose faith in God? Why, I would have to lose our love if I did that. You have taught me too well that it was the divine father who gave us that love and who has made it so perfect. Oh! No! I only lost my peace of mind for a little while when I had to face the fact that I can never have a child of your blood and body. It is the hardest thing I will ever have to go through, but I shall learn to kiss that cross. And darling, I have the most beautiful Rosary in the world to cherish all my life—its lovely pearls are the hours I can spend with you—each one a heavenly joy—and if at the end I must always find a cross—I know that I shall also find your dear hand waiting, ready to give me the bread of life."
© 2005 by Sharon Rich. All rights reserved.