Al Caiazza was the child actor/singer who co-starred with Jeanette in Prima Donna. He was interviewed over the phone and then spoke at a Mac/Eddy Los Angeles luncheon. This excerpt is from Issue #46, in which the entire interview was published. The photo below shows Al and Jeanette in 1956. Article ©1993, 2006, all rights reserved.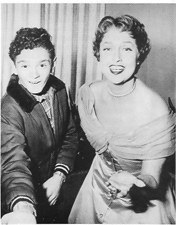 Sharon Rich: How did Prima Donna come about for you?
Al Caiazza: I had done a couple of other films, Good Morning, Miss Dove with Jennifer Jones and Robert Stack, and then I was in The Private War of Major Benson with Charlton Heston. I was real briefly in The Man With the Grey Flannel Suit with Gregory Peck. [He also appeared in an I Love Lucy episode.] And then I did some singing on the side. That what I really did was sing. When I was very young my father took me around singing everywhere.
My agent said, "Listen, why don't you go to the Hal Roach Studio? They're looking for some young 13-14 year old to sing." ….There must have been 5-600 boys lined up outside. Some father came out and said to my dad, "You know who's inside listening to all the boys?….It's Jeanette MacDonald."
It was my turn to go in. She said, 'How old are you? What's your name?"….I must have sung maybe three or four lines [of "Back to Sorrento"] and she said, "Stop!" I said, "Did I do something wrong?" And she said, "No. I want you to step aside. Would you just sit down right there?" And she told David Butler, the director, "Tell all the other boys to go home, and get his dad in here. He's my boy."
SR: That's a great story. How old were you?
AC: Thirteen. I was thrilled. My father was jumping up and down.
SR: How was she on the set to work with?
AC: Wonderful. She did have trouble remembering her lines, but she'd just laugh and do it again…. She got along great with everyone. My birthday came up at the end of the filming. I was getting paid $500 for Prima Donna but she had a birthday party for me on the set. A cake was brought in with an envelope on it. Inside was a bonus – another $500!
It was a two-week filming for that half hour movie. The producer was her husband, Gene Raymond. We were invited to her house, and that was a big thrill. She had a beautiful home and she loved roses. She had a big, big rose garden. Must have been a quarter of an acre of land just going down with nothing but different kinds of roses. And I remember her big kidney-shaped swimming pool.
SR: Were there orange roses there? [We already knew at this point that Nelson Eddy had planted a hillside of orange roses "to match her hair."]
AC: Yes, there sure was. A lot of them. Plenty of them. And in her house, I'll never forget. A servant came to the door and said, 'Yes? May I say who's calling?" My father said, "Al Caiazza and family." "Come right in." And there was a big picture of Nelson Eddy, a huge picture, in his mounted police uniform, right inside the door. As you go in, it was like a little hallway. And right on the wall to the right was a HUGE picture of Nelson Eddy.
SR: When you say huge, how many inches do you mean?
AC: Maybe four feet by three feet. It was huge. A colored picture like a painting of a picture….My father looked at it and said, "I wonder how Gene Raymond lives with that?"
Click here to read other articles.