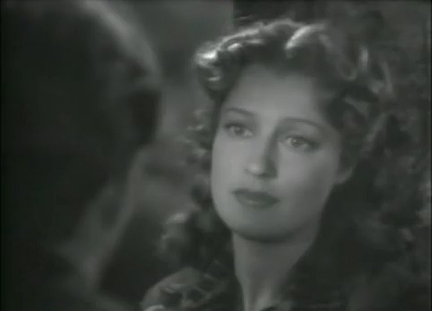 The Girl of the Golden West does not usually make the number one spot on people's lists of "my favorite Jeanette MacDonald and Nelson Eddy movies." One possible reason for this is that there is no love duet sung halfway through the film, preferably under a tree…where they and the song's lyrics profess undying love…and then their characters are torn apart in some fashion until the film's glorious finale where love reigns triumphant. And the theme song is sung again for good measure, seals the deal, and becomes a mega-hit song that Nelson and Jeanette sing for decades to come as one of their standards….uh, no. That's not what happened here.
There was such a scene planned and there was a song to be sung under the tree, "Obey Your Heart." They pre-recorded the duet (we have the recording) and part of the scene was filmed. Nelson sang the song – as a solo – to Jeanette on camera but strangely, she doesn't answer the love call. Instead she looks very sad (see photo above) and the scene ends abruptly with the untimely interference of the brilliantly comical Buddy Ebsen.
So why wasn't the duet filmed and why does Jeanette only sing it solo later in the film?
Background information: This movie was shot after the wedding of Jeanette MacDonald to Gene Raymond in June 1937. During the summer, Nelson Eddy was kept busy filming Rosalie – a film in which he sang well but phoned in his performance. Once that film was completed, he was not eager to work with Jeanette again but faced suspension if he didn't. Irate movie-going audiences were demanding the Mac/Eddy screen team be reunited. Nelson went right from filming one film into the next.
Anyone thinking Nelson wasn't still in love with Jeanette only has to view this film and see the difference in his demeanor in Girl compared to Rosalie. Nelson drank to get through Girl and it's evident in his sometime bleary eyes and loose, limp mannerisms. They have few scenes together in a very long movie and in one of the key scenes where there's lots of togetherness (as Jeanette tends to badly wounded Nelson) his physical arousal is plainly seen. (That situation is covered in this article.)
Yet in one scene Nelson was totally sober and focused. That was his singing "Obey Your Heart" under the tree to Jeanette. He took her hand in his, looked right into her eyes and sang from his anguished heart.
The sensual way in which he caresses her fingers throughout the song was never repeated with such intensity before or after in any of his movies with Jeanette. We see the finger-caressing in their other films and also off-screen in life…but not like this. The film is worth watching just for this scene alone. The intimacy with her fingers, fondling and sliding his own finger between hers…well, it's a definite statement from a man whose love was rejected and who is not over that rejection.
Jeanette's reaction is equally telling. She watches what he's doing and throughout the song, she has a haunted, strained and resigned expression in her eyes. And his barely disguised erotic emotion is so overwhelming that she can't continue the scene. In fact, Jeanette broke down crying repeatedly and finally the director gave up trying to film it. That was the end of the duet.
If you think about it, Jeanette's expression and reactions to Nelson is not in keeping with her screen character. She plays a happy, cheerfully naive, virginal young woman who has never really had a romance and has never been hurt emotionally by a man. So why, as Nelson sings and urges her to obey her heart, would she look sad and beaten down? It makes no sense.
Here is a blow-by-blow description of what can be observed during Nelson's singing of this song and Jeanette's reaction. And by the way – yes, Nelson's makeup is terrible. Overdone and really more appropriate for color film. But that isn't the point here.
Below, Jeanette's expression is immediately one of tragic sadness rather than the expected "Oh goodie, this handsome Loo-tenant Johnson is wooing me and is gonna sing me a nice love song."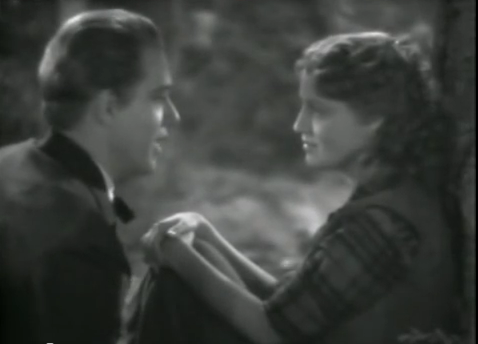 Look at her rueful smile as he sings: "Love may live a day or all life through."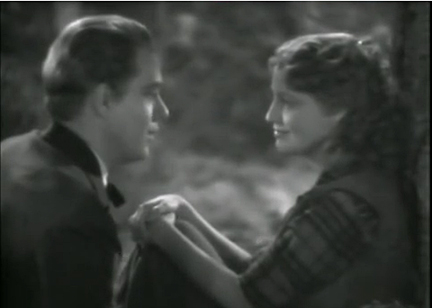 Her eyes close and her head goes back as he starts caressing her fingers: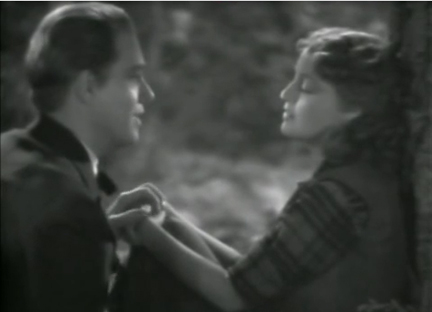 She tensely watches him stroking her fingers: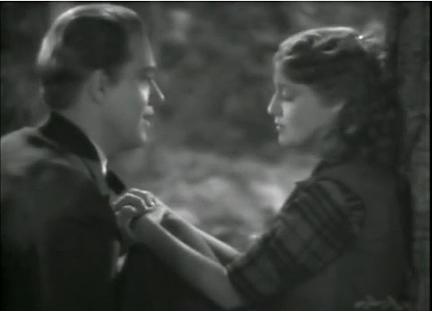 And then her head goes down, she can't look at him as he continues.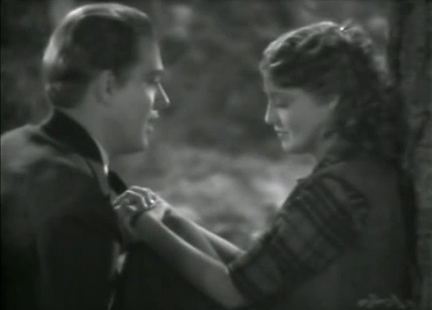 She finally looks up at him again, her eyes glistening.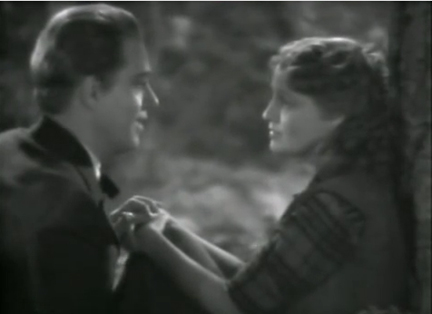 Now he really steps up the very graphic finger action, stroking on and between her fingers.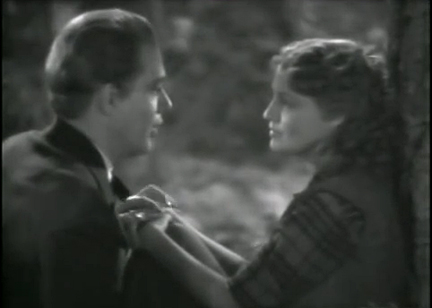 Jeanette looks close to crying and/or a little sick to her stomach.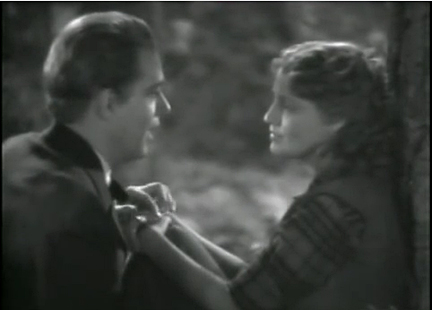 Now he starts caressing her thumb…look at her expression…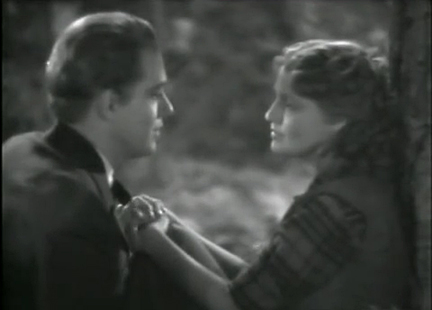 And stroking it…she responds a little bit with her thumb.
Now he takes her other hand and again she watches his hands…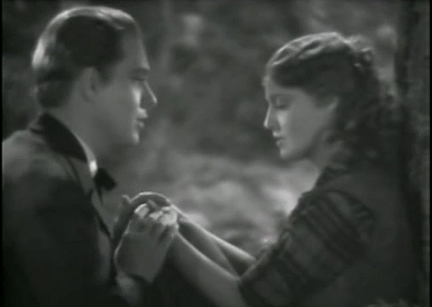 There is a quick cut to a different shot, a closeup of her pensive face.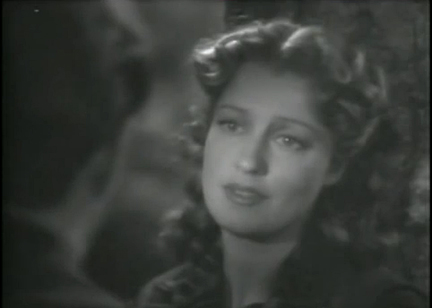 And then back to the other shot, where she's clearly losing her composure, her eyes filling as he grabs her arm with one hand and continues the thumb caressing with the other.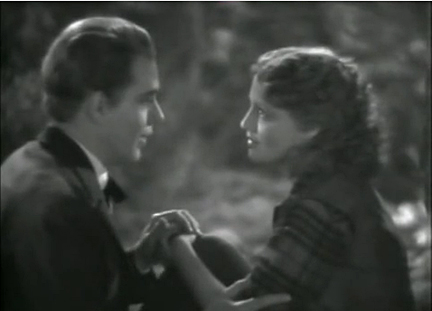 Her head goes down again and she looks a bit ill as he sings: "…knowing love would say obey your heart."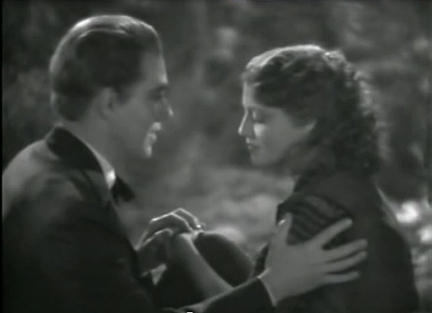 Her body language is rigid and at this point, with the song ending, she should melt into him with a passionate clinch…and next she would sing back to him and they would launch into a duet…but no, instead a convenient interruption. And note that until the last possible moment, he refuses to let go of her hand and the sensual finger action continues.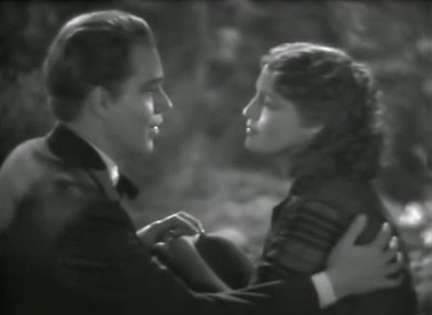 This is a woman who in real life has been married just a few months to a  man she is supposedly madly in love with …and yet she has such an extreme reaction to Nelson's intimate behavior that she breaks down in tears and cannot film the movie's main duet. You do the math.
All in all, a very telling piece of film and visual evidence of real emotion being played out against the backdrop of a movie set.
More details about this film and what went on during the making of it can be found in the book Sweethearts.
And you can watch some of Nelson's finger action in this close-up film clip:
And finally, below is the pre-recording duet version to listen to. The duet begins after Nelson sings the song once through solo (as seen in the film) and now she's to sing it back to him…then he joins in. Listen to how sad and a little shaky Jeanette's voice sounds through the entire rendition. And just in general it seems more a sad song than a declaration of love song. One wonders whether even if the duet made it into the final film, would it have been a hit? What do you think?