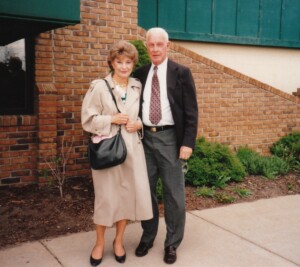 Above, Margaret and Richard Henrizi
This week we received a large package with the Nelson Eddy collection of a fan who recently passed away. I have been corresponding with her stepson Rick, who included with the package the photo above and the following letter:
Hi Sharon, I just wanted to add a personal touch and add this letter to your package to let you know how fortunate I feel that I found someone like you that can enjoy the enclosed items as much as my Step-Mom Margaret seemed to enjoy them. She was a special kind of Lady and I know that she is looking down from Heaven smiling at the thought of someone like you getting all this to share with others.
Thank you, Rick, for thinking of us and yes, we will be sharing the photos, magazines and other items from the collection in our own upcoming magazines, so that others can enjoy them.  And on behalf of our group, let me extend our condolences and best wishes to you, your father and your family.