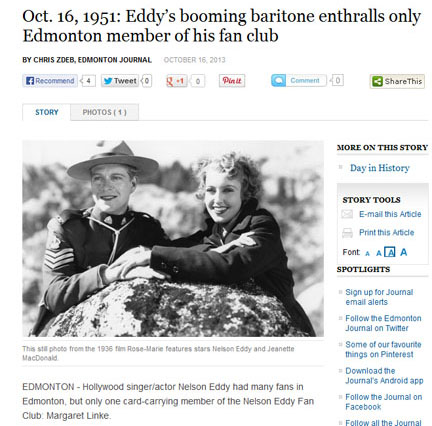 A blast from the past:
Oct. 16, 1951: Eddy's booming baritone enthralls only Edmonton member of his fan club

EDMONTON – Hollywood singer/actor Nelson Eddy had many fans in Edmonton, but only one card-carrying member of the Nelson Eddy Fan Club: Margaret Linke.

When her idol came to town for a concert, Linke was invited to meet him after the show.

"I never thought he'd turn up here," she enthused later.

The 31-year-old provincial government stenographer joined the club at 18 after corresponding with an American pen pal who was club president. Although the lone club member in Edmonton, Linke was one of 800 Eddy-ites in North America.

Besides up to eight scrapbooks she had filled with Eddy's pictures and news clippings, Linke had a collection of the singer's 30-page magazines, published every three months and distributed among his fan club members.

Unlike most chapters that held frequent get-togethers, the Edmonton club didn't have enough members to do that, but meeting Eddy in person more compensated.

Idol and fan mostly talked about the seven movies he made in the 1930s with soprano Jeanette MacDonald, including Naughty Marietta and Rose-Marie.

A sellout audience attended Eddy's first Edmonton appearance at the Stock Sales Pavilion on the Northlands grounds, dubbed The Cow Palace. The 50-year-old baritone sang such favourites as Rose-Marie, Oh What a Beautiful Morning and his signature tune, Shortnin' Bread.

Renewed interest in Eddy and MacDonald in the 1950s brought Eddy's old musical and romantic screen partner to Edmonton the following year. MacDonald thrilled 2,000 Edmontonians with a performance at the same venue where Eddy had performed.

Singing some of the same movie numbers that Eddy had during his visit, the audience rewarded her with seven encores.

MacDonald died at age 61 in 1965. Two years later, Eddy followed at age 65.
Link to article: Edmonton Journal