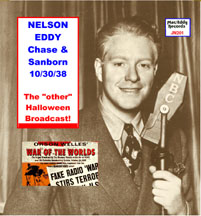 Despite the fact that yes, some folks did change the radio channel once Nelson began singing, let's put it into perspective. Chase and Sanborn was a middling radio show (ratings-wise) that took off once Nelson Eddy joined the cast. It was a brilliant move of counter-programming to add him to the series! In fact, Edgar Bergen's radio salary jumped dramatically the next season due to the ratings increase with Nelson on the show. (Which is why Nelson remained on the show as his schedule permitted until he began hosting his own solo radio series…but still now and again return to C&S.) So while there were undoubtedly some non-Nelson fans listening to the C&S broadcast that fateful October evening, we think this article goes a little overboard suggesting there was a mass exodus.  But those who did defect (probably more men since a majority of Nelson's fans were always women) turned to some shocking "news." From The New York Times:
It was all Nelson Eddy's fault. Seventy-five years ago, at 8 o'clock on the evening of Oct. 30, 1938, millions of Americans tuned in their radios to listen to NBC's "Chase and Sanborn Hour," a popular variety show starring the ventriloquist Edgar Bergen and his dummy Charlie McCarthy. When Bergen and McCarthy finished their first sketch — a routine about trick-or-treating — the announcer passed the microphone to Eddy, a booming baritone then starring with Jeanette MacDonald in a series of MGM operettas.

But when Eddy went into a thumping martial tune, "Song of the Vagabonds," some of those millions went station surfing, and turned the dial to NBC's less popular rival CBS just in time to hear a dance program interrupted by a special news bulletin. A Chicago astronomer had reported observing "several explosions of incandescent gas" on the planet Mars. Mysterious objects were moving toward Earth, "at enormous velocity." A huge flaming object, believed to be a meteorite, had crashed into a farm near Grover's Mill, N.J., 22 miles from Trenton.

Listeners sat frozen as a reporter, dispatched to the scene, described "something like a great snake" — dozens of them! — climbing out of the crater. A jet of flame erupted from the head of one of the creatures, immolating cars, buildings, people. The airwaves were filled with screams, and then a sudden silence. The invaders were here, and the nation — or some significant portion of it — panicked. "A wave of mass hysteria seized thousands of radio listeners," The New York Times reported the next morning. "At least a score of adults required treatment for shock and hysteria."

The latecomers had missed the opening announcement: This was not a live newscast at all, but a dramatization of H. G. Wells's novel "The War of the Worlds," as presented by a 23-year-old New York theater director, Orson Welles, and the members of his stock company, the Mercury Players. "The Mercury Theater on the Air" had such low ratings that the program had yet to attract a sponsor, which meant that there were no commercials to interrupt the hourlong show (though there were periodic announcements that the program was fiction).
Oh well, guess we shouldn't complain; at least Nelson is in the news! Any publicity is better than no publicity…or so they say. Just as long as they spelled his name correctly! 🙂
You can hear the "other" Halloween broadcast with the CD above. Happy Halloween, folks!
UPDATE: Patrice Messina wrote the following after listening to the broadcast; seems it wasn't because of Nelson that the radio channels were switched to "War of the Worlds."
Re: The Halloween Chase and Sanborn.  Heard it last night and a historian pointed out that it was around 15 min into the Bergen program when Dorothy Lamour was to sing that listeners turned the dial.  So NOT when Nelson was singing!  In fact he sang two songs back to back in about the first 3 to 5 minutes.  Then he sang an aria toward the end of the hour long program.  Am so happy they didn't turn the dial when Nelson was singing!  And it turned out that wily Orson KNEW the program schedule and that listeners often switched stations when singing came on around 12 to 15 minutes into Chase and Sanborn hour so planned to have the fake news reports start around 15 minutes when he knew people would stumble into the program.  He really did plan to cause a bit of panic for Halloween.
Thanks, Patrice!