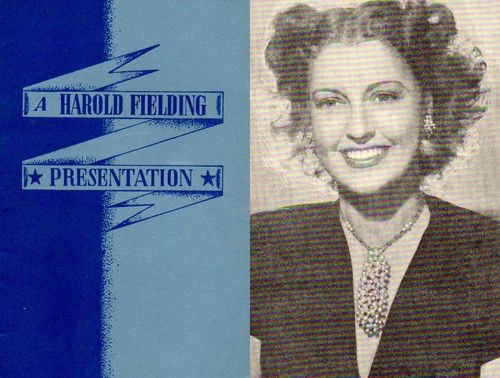 Jeanette MacDonald, pictured above in the printed program for her concert at London's Royal Albert Hall in 1946. An eyewitness account from Dorothy Mcbain:
When I was 8 years old in 1938 I was taken to the cinema by by my parents to see a film called 'Rose Marie'. There were two wonderful stars in it and I fell madly in love with both of them…that day was a turning point in my life…I saw every film they made sitting through their films time and time again and they were to be very much a huge aspect of my whole life.

In 1946 [just months after World War 2 ended] much to my delight I read in a National Newspaper than an impresario named Harold Fielding was bringing Jeanette to Britain to do a series of concerts. I was thrilled that she was coming to this country but I knew that no way would I be able to see her…money was tight and as she was not doing a recital near my home it was an impossible thought. I however wrote letter to Mr Fielding saying how thrilled I was that she was coming to this country and more or less did not give the letter another thought. However imagine my surprise when about a week later I received a letter from Mr Fielding thanking me for thanking him and enclosing a ticket for Jeanette's concert at the Royal Albert Hall in London and arranging that his secretary Susan Howe meet me at a pre-arranged venue, escort me to my seat and take me back stage later to actually meet Jeanette. My parents obviously collected the money for my train fare and I set off a very excited 16 year old. The recital was fabulous….Jeanette came on stage in a beautiful pale pink gown her red hair shining and the most wonderful complexion imaginable. The audience went berserk when that tiny slim figure walked on to the stage and I can honestly say everyone but her faded into oblivion… The recital was wonderful and any one who said Jeanette was not a good opera singer should have been there that night…she sang every type of song imaginable …the encores went on forever, the audience just didn't want to let her go and she was so gracious…one wonderful trouper our Jeanette….she had not been well but nobody would have known. When she finally went off the stage Susan came and took me backstage to meet her. There were about seven of us waiting to see her…I found out the other 6 were members of the British Fan Site and incidentally went to every concert. I was so awe struck…she greeted us with that wonderful smile and all I could think to say was 'I think you are wonderful' and got that wonderful smile as she replied 'Thank you very much' . What a whimp I was…wish I had asked where Nelson was! No not really, I have a bit more tact I hope!! I have so enjoyed doing this and being transformed to that wonderful night …love you all we all have very good taste. I would just like to say a big thank you to Jeanette and Nelson for making our lives full of good friends.

Jeanette told the audience at the Royal Albert Hall that night how distressed she was driving through the streets of London and seeing the bombed houses and buildings. She was very genuinely upset and also the fact that food was very rationed…examples everyone was allowed 2oz butter,2 oz sugar 2oz margarine per week..powered eggs. no sweets or chocolate [do me good now]. Children were allowed bananas when available which was rare. I think Jeanette was unselfish enough not to have Savoy Hotel food for VIPS I am not 100% certain and that statement but at the back of my mind it rings a bell. Jeanette was a very caring, very special person as we all know. It was actually very brave of her to come over with the way things were post-war..it was a gloomy miserable time that's why Harold Fielding did a wonderful thing in bringing her over…..she made the whole gloom lift. Where Jeanette was everything was golden.  wonderful thank you dorothy

When Jeanette said she was upset driving through bomb-damaged London…she was near to tears…a lovely, sincere caring lady who would be so proud and grateful to you and the wonderful job you have done just as we all are.
Thanks to Maria Escano for use of the photo above.