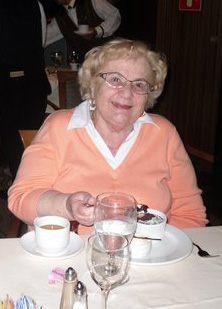 On August 26, 2012 we lost our longtime club member, Elsa Glass, at age 89.
Elsa – a Judge by profession – and I had a long history together as researchers. Over the years we met up every so often  in LA, New York or DC to compare notes and trade information. Occasionally we swapped sources for new people to interview. Elsa cared deeply about Nelson Eddy's personal story particularly the early, formative years of his life, and planned to write a book about his early years.  She wasn't so interested in the Jeanette MacDonald influence on him – a point that we differed on. I would argue to her that Nelson's career choices – and even remaining in Hollywood – were very much based on the status of what was happening with Jeanette.  However, Elsa remained firm on focusing on Nelson only so we agreed to disagree. But happily for us, she willingly shared any information that concerned Jeanette.
For example, she turned over to me the baptismal records that proved Jeanette was born in 1903 (I already knew that but had spent a day searching unsuccessfully for any evidence of a birth certificate in Philadelphia for her.) Elsa also tipped me off that the doorman to the Lenox Apartments (where Nelson had for many years a studio in the apartment of his mentor Gertrude Evans) was willing to talk and verified that Jeanette used to stay there with Nelson as their Philadelphia hideaway in the later 1950s. I was able to interview him and verify what he had told Elsa. More shared information:  Elsa informed me that she had been able to verify with her own sources the fact that Jeanette arranged for both her/Gene and Nelson/Ann to get joint divorces in the late '50s, they did in fact do this in New York City and Nelson at the 11th hour pulled out of the deal because of Ann Eddy's insistence to drain him financially.  Elsa also told me that she interviewed several people in connection to Nelson's Las Vegas wedding and in particular family members of the Judge who married Nelson and Ann. She reported to me that the Judge had a bad reputation for marrying intoxicated couples and had some ethics issues over the years.  We discussed the fact that the man was probably well-paid to perform the ceremony, considering that it even hit the newspapers that Nelson was so out of it he started down the aisle with Doris Kenyon at his side!
Whenever we got together we each had a list of questions for each other.  I don't think she ever made a big public announcement when she verified pieces to me of the Jeanette-Nelson story.  But we were friends and I wanted our readers to understand how helpful she was. Being a Judge certainly helped open some research doors that were otherwise unavailable to me or others. We all benefited from her research.
Darryl Winston, who heads up our Washington, D.C. events, was good friends with Elsa. He writes:
OMG, I am so sorry to hear the news. I called her 3 weeks ago, she seemed okay….She was a Grand Ol' Gal, becoming more like May Robson as the years went on. I will really miss her.

I have many fond memories of Elsa. One year we gave a masked opera gala and Elsa came dressed as a gypsy. Another time Elsa came to visit me at a job. The security guard told Elsa that she could not park her car in front of the building to which Elsa replied as she got out of her car, "You just go in and tell Mr. Winston that Judge Glass is here!" Her car stayed parked in front of that building. I always called her, "JUDGIE".  Even in Elsa's advanced years, she was an excellent driver. Many people don't know that she was a Civil Rights crusader especially when it came to employment. One day for lunch Elsa served me and Marjorie Hadlock Nelson's favorite meal: Yankee Pot Roast and freshly baked biscuits with honey.
Elsa also had me over to her lovely home after the Washington, D.C. club meetings for delicious home-cooked meals, and I met her family. She and her daughter Jennie joined us on both of the Mac/Eddy cruises. Elsa loved spending time with my husband Jake and my daughter Juliet and always had a warm hug for me. And she was a vital member on our Yahoo group. Bern, our moderator on that group, wrote:
elsa dik glass became a member of the group in febuary of 2004.. she was a very feisty lady with a kind side and one of nelson eddy's biggest advocates

the first time i met elsa in person was at the lecture by joanne woodward in nyc may of 2008 i believe i found her- and introduced myself..she handed me some pencils with nelson and jeanette printed on them..i still have them..she was lovely to look at and sharp as a tack- but ever elsa. always had a wink and a nod when she disagreed with someone's take on certain subjects about jeanette and nelson..she was a card…super intelligent- and always questioning…

we met again at the dc 2008 meeting and had a marvelous time ..as the speaker spoke she would just nod with a twinkle in her eye..it was then we talked about her book on nelson eddy a career bio ..she was full of files about him done from great research..and information from folks who knew him and his work..i hope dear elsa someday will see that book come to be- with a dedication to her brilliant and tenacious work

so- we shall miss our great lady- who had a wonderful mischievous laugh and always to me- a kind word.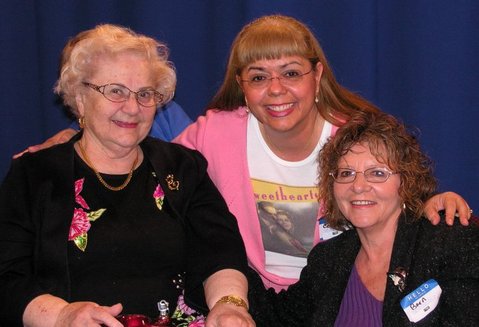 Above photo from left to right: Elsa Glass, Cecilia Rodriguez (co-moderator of our Yahoo group) and Bernadette Schwartz (moderator) at the 2008 Washington, DC club event.
Below, Elsa and my daughter Juliet share a meal on the 2010 Mac/Eddy cruise. (Thanks to Sandy Reed for forwarding this photo and the one at the top of the page.)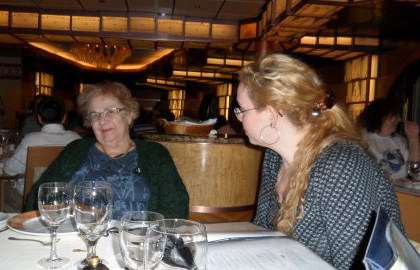 Below, Elsa and daughter Jennie on the same cruise.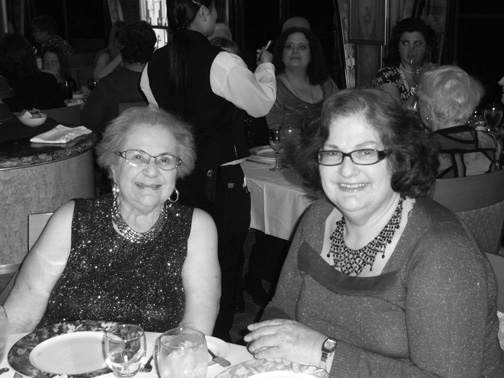 Jake, Juliet and I will all miss Elsa. She was a no-nonsense person who bluntly spoke her mind. She was a fighter and lived life fully despite health issues and chronic physical discomfort in later years. But there was also an emotional, sweet side to her as well. She will be greatly missed.
Sharon