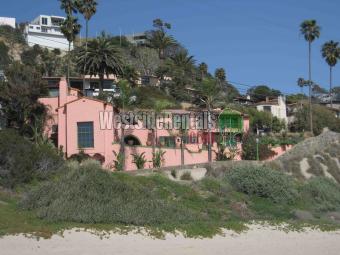 If you can swing $7,600/month rent,you can live in the beach house that Nelson Eddy got for his mother Isabel after his marriage to Ann Franklin in 1939.
Prior to his marriage, Nelson and his mother always shared a home. But relations were so tenuous between Isabel and Ann that Ann "threw Isabel out" (Isabel was still Team Jeanette) and Nelson was quickly forced to get other lodgings for his mother. The beach house, originally built for his friend Lawrence Tibbett, also included a private studio apartment atop the main house for Nelson when he had to get away from his wife. He was able to stable his horse nearby and spent many hours riding along the beach, contemplating the mess he'd made of his life.
Details of the rental are at this link. By the way, the $7,600 rent covers the main house; if you also want Nelson's wing of the house it's an extra $2,500/month.