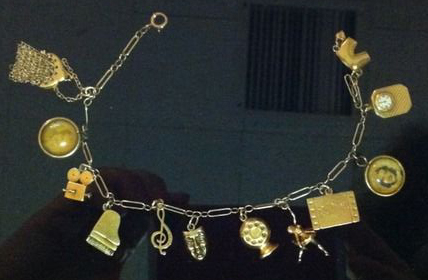 I always think every Los Angeles meeting is the "best ever" but each one seems to top the last one…and perhaps the June 23, 2013 Birthday Bash for Jeanette and Nelson was the most spectacular of all.
For the last two years, our club member Madeline Bayless has been writing special spoken/audio/visual presentations that are given at our Los Angeles meetings by Linda Tolman. We nicknamed them the Master Class series because each one addresses a particular area of interest in the lives of Jeanette MacDonald and Nelson Eddy. Seeing the presentations in person with everyone else was always a delight and complete surprise for me; Madeline wanted no spoilers in regards to the subject matter.
But this one was an utter shock  – once Linda stepped up to the podium and began speaking, within a minute or two I knew what the topic was.  And I couldn't believe it…because it took a lot of courage on Madeline's part to share this information.
Prior to the meeting, Linda Tolman told me she had at long last talked Madeline into covering this particular topic. So, first off, let me give Linda a huge Thank You for helping Madeline to see why this needed to be presented.
Thankfully we have a video of this event but even that doesn't capture the raw emotion, shock and awe when the Big Reveal came. This was a brave, bold undertaking by Madeline Bayless – who by nature is a private person. Yes, I could use some of her data and direct quotes but not name her or provide details of her connection to the Nelson/Jeanette story.  I thank her from the bottom of my heart for deciding to share with you tangible "proof" that the Jeanette-Nelson love affair was real. In addition, she decided also to share the fact that she was one of my "anonymous" sources…and she elaborated some on the fact that her father worked at MGM in the sound department and that, on the side, he built Nelson's home recording equipment. Her brother James was the person who saw Nelson and Jeanette together while he was at  Nelson's home installing the home equipment. Her father was famous and innovative; he left MGM just before Nelson and Jeanette to be an executive at a new company – Capitol Records. Because Nelson was a family friend and business associate over the years, Madeline was aware of the Nelson-Jeanette relationship from the very beginning. And for those of you who wonder about their hideaway home known as "Mists" – well, Madeline went with her father to meet Nelson there so she can personal verify its existence and the fact that Nelson used it as a haven away from the house that he technically lived in with Ann Franklin. These are just a few of the bombshells that were revealed during the presentation.
I have told many of you that there are sources that walk among you who have first-hand knowledge of what went on in the lives of Jeanette and Nelson. They were there and witnessed some of it in person.
To read more about Madeline's connection to the story, check out the Master Class page. You can also watch the video presentation at that link. You can also read the full  transcript here; in the interest of time, it was cut down a bit in the spoken version by Linda.
Here is a photo of Jeanette wearing the charm bracelet from the film Sweethearts.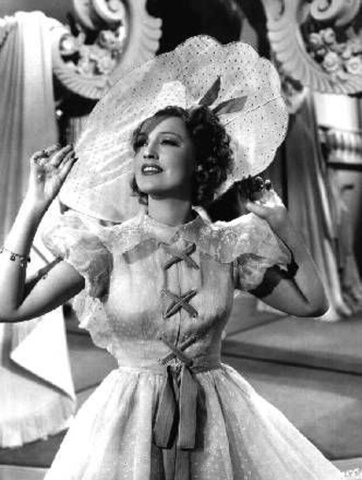 You can also see it in the scene in which she and Nelson rush onto the stage for their radio broadcast; she is wearing a hat and holding a muff. In addition, here is a candid shot (recently obtained by Maria Escano) dated June 18, 1938 – Jeanette's 35th birthday, and you can see that she's wearing the bracelet here on her right wrist.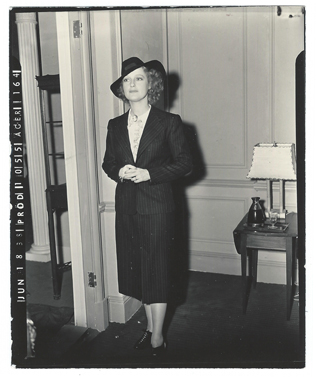 In her presentation Madeline used source material that some of you may be familiar with from the book Sweethearts. Other information came from her own personal knowledge.
As requested, I will indeed devote a lengthy magazine article to the subject of Jeanette's charm bracelets – with charms given to her by Nelson Eddy. Yes, I said "bracelets." She had three sterling silver ones as well as the special gold one. If you're wondering where the clock charm is that was mentioned in the book Sweethearts – the first charm that Nelson Eddy bought for her because she showed up late at his concert – it's on one of the silver bracelets, as you can see here. Two of the sterling silver bracelets are now owned by Linda Tolman. (When I was first told the story of the clock charm – Nelson's very first gift to Jeanette – back around 1970 or so, my source said that Jeanette arrived late at Nelson's Los Angeles concert at 8:40 pm.  However, Linda has since corrected me; she purchased the bracelets in 2008 and found that Jeanette apparently walked in at 8:23 pm as evidenced by the time noted on the face of the clock charm.)
Happily for us, three charm bracelets are "in the family" and serve as physical proof of the stories I was told decades ago about these charms and bracelets given to Jeanette by Nelson…long before either Madeline or Linda ever added these priceless pieces of jewelry into their collections.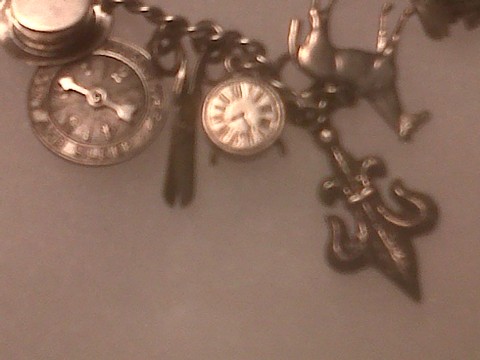 As a postscript, the "tree of life" charm I also learned about was large and actually on its own bracelet (not a small charm on another bracelet as I had initially surmised.) While no one we know owns it, we do have a photo of Jeanette wearing it (it dangles from her right wrist):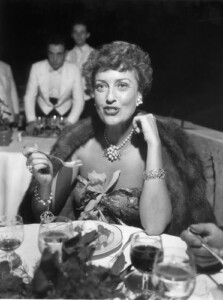 Getting back to the Master Class #4 video, you can hear a few people clapping at the end of it but most were silent – stunned, excited and unbelieving that the actual gold charm bracelet was sitting right there in front of them.  For me, it was a highly personal and emotional moment while attempting to thank Madeline for sharing the bracelet and some of her personal story. To have her come forward and say yes, it's true; I was there and by the way,  here's some proof of it – well, I was just so relieved and grateful that we could have that moment together with all of you. As you know by now, I keep my sources secret when asked to do so – even when it would be far easier on me not to honor those promises. So, I want to give Madeline another huge Thank You for letting everyone share in this experience.
I'm not sure one can get the full impact felt by the audience on the video. Afterwards, people lined up to study the bracelet up close. I wanted to share some of the written comments from our Yahoo group members:
You should have heard the gasps in the room and the silence afterwards as we eagerly awaited the bracelet to appear.  And then, there it was.  Plain and simple you could see in those charms the hand of Nelson Eddy and the love for Jam.  I think I got the biggest kick out of the pair of boxer shorts with the heart-shaped padlock.  Kudos Nelson!  But to also have their photos on it?  Priceless.  – Patrice Messina (who also took the photo of the gold charm bracelet pictured above)

patrice you are so right.. breathless… and then when sharon spoke and became so emotional after all these years ..there was not a dry eye in the house yours truly included i had to kiss madeline to thanks her and did hold the box the bracelet was in .. my god what an experience..and yes nelson incarnate in those charms his love and his sense of humor too – bern

When Linda unveiled the bracelet it was like a shining light from above with the words "The Truth Shall Set You Free." Love that quote and it so applies. – Cecilia

Thanks to all of you who attended as it was such a special meeting as they all are but this one was "over the top." Never expected to see such a treasure…..it is awesome. – Mary Lynn Grana

Linda and Madeline, thank you so much for sharing what you know and especially the bracelet. – Anne B

oh linda thank you so much.. my god- im so glad these precious items are in the loving hands of folks who appreciate and love our sweethearts- and keep tender care of them…i cannot thank you enough for sharing this with us ..i still remained stunned after madeline's presentation and your great delivery of it.. it was hard to get through…if you noticed there was a stunned audience after the gold bracelet was revealed and i must say that this bracelet also fits into the beautiful puzzle that was the love of  j and n…the famous clock….i was so honored to be able to attend and to see these items that for me- and all hold such dear places in our hearts…thanks again no words left…bern
I want to also thank some of the gals from our Yahoo group who gathered up pertinent photographs that showed Jeanette wearing her birthday gift from Nelson both onscreen and off. Their detective work helped make this article about the bracelet more complete.
Once again, the link to the Master Class page is here. But if you would like to share any comments or communication to either Madeline or Linda about the presentation, please do so here in the "comments" section.
Let me close here by saying that there are others who might be reading this who still have information that can be shared; some of you have requested anonymity as Madeline did. Some have contacted me, others have not. If you know something, at this late date please re-think your silence; it is so much more rewarding and a relief to share it now with those who care while you're still here to enjoy the experience. Back then it was important to keep their secrets; today it is important to validate who they were and what they endured in their private lives while still bringing joy to all of us with their careers.
Sharon