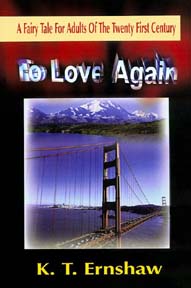 Good news! K.T. Ernshaw's novel, To Love Again is now available for instant download on Kindle.
For those who don't know her, she was a longtime confidante of Nelson Eddy's and the main character in the book is based on the Nelson she knew.  Readers will recognize him immediately from the very beginning. From one of the reviews:
It's an interesting plot if you like futuristic novels, and this one isn't set too far in the future, but let's face it, Nelson Eddy fans will want to read it for the love story. You have to keep in mind that this author had an extensive intimate relationship with Nelson Eddy, off-and-on over a period of 20 years. She has preferred to play this down and writes under a literary name, but she did show up in person and was agreeable to answering questions about Nelson, except for the most personal. She said she wrote the book for two reasons, to give some biographical and true understanding of the Nelson she knew and to combine that with a novel idea that she wanted to tell. It's a long book but but thoughtful and well worth reading on many levels. On a related subject, when asked about Nelson Eddy and Jeanette MacDonald, as in "did they or didn't they?" she answered that they in fact "did," that Nelson himself told her and she learned from him some of the details over the years.
To learn more about the author read an interview with her here.
To order the book on Kindle, click here.