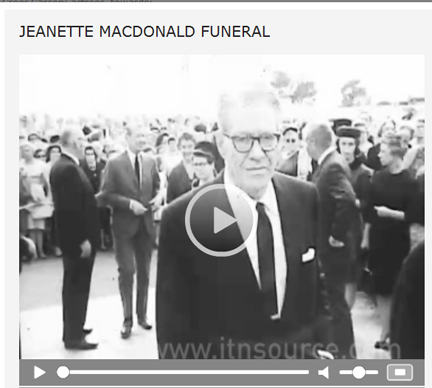 Watch a short clip from ITN news covering the funeral of Jeanette MacDonald.  When you click on the link , which opens in a new window, scroll to the bottom of the page and then click on the orange button: "Play Clip."
Nelson Eddy is featured making his entrance. Gale Sherwood and Ann Franklin have already arrived and walk separately from him (with Gale trailing Ann).  Nelson walks past Gale and licks his lower lip as he approaches Ann. He looks like he's trying to compose himself. Then photographers step in front of his face and raise their cameras to get a good shot. Nelson doesn't walk beside Ann but seems to cut left behind her. This short clip ends with Jeanette's casket arriving in the hearse. Heartbreaking.
After watching it a few times, you can learn more about what went on behind the scenes by watching the "Master Class" video here.