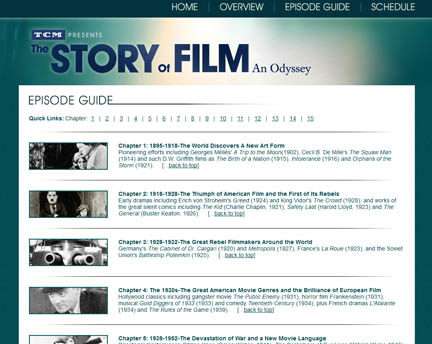 This month on TCM there are no Mac/Eddy films together but at various times during the month they are airing this short subject: MGM Parade Show #22 (1955) Nelson Eddy and Jeanette MacDonald perform in a clip from "Maytime"; Lucille Ball and Desi Arnaz introduce a clip from "Forever Darling." Hosted by George Murphy.
On Monday, September 23, two of Jeanette's films are screening:
6:00 AM eastern: Cairo (1942) (Please note that Nelson does indeed make a cameo appearance; his photo hangs in a movie theater lobby while Jeanette, Robert Young and Ethel Waters are talking!)
8:00 PM eastern: Love Me Tonight (1932)
Also, this month TCM is airing (on Monday and Tuesday evenings) the excellent multi-part documentary, "The Story of Film." It's a very interesting overview of the history of worldwide cinema and reminds me very much of my film history classes at UCLA back in the 1970s… What I am enjoying about this current series is that some of the little-known films referred to in the documentary are shown on TCM following the particular episode, which gives you a chance to see some film classics you might have missed before.
I have not seen this documentary before and don't think it likely that they go into the Jeanette/Nelson films. But at least for the first few episodes dealing with the first few decades of Hollywood history, I think you might find it well worth watching. And who knows, we may learn a few things of interest!