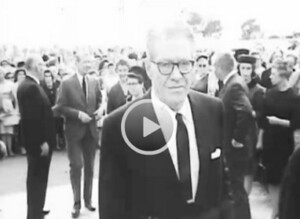 Above is a screenshot of some video footage showing Nelson Eddy arriving to the funeral of Jeanette MacDonald, January 18, 1965.
Looking wan and grief-stricken, he walks ahead and catches up to his current singing co-star Gale Sherwood and his spouse Ann Franklin. One other quick shot shows him biting his quivering lip. Among the various film clips of this funeral or from other sad moments captured of him on film, one notices that he bites his lip when trying to keep his emotions in control.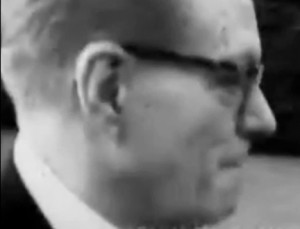 An amazing, lengthy clip of raw TV footage from Jeanette's funeral was discovered and made available for viewing by our friends Katie and Angela. Once again, we are grateful to them for presenting this footage as it has not been seen since 1965. Katie has written a perceptive analysis of the funeral and its footage on her blog. More details and the before and after preparations can be found in the book Sweethearts. However, after watching the video clip below several times, there are many things to watch for.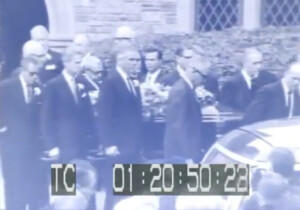 The pallbearers shown above carry Jeanette MacDonald's casket from the chapel to the car. To the side behind them are recognizable honorary pallbearers Lauritz Melchior and Jack Oakie.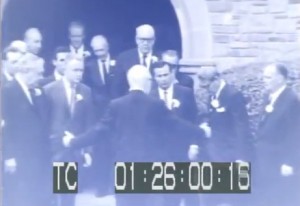 At the very end of the group is Nelson, who comes out last after Lloyd Nolan, Lauritz Melchior and Jack Oakie.  You can see him way in the back. The fact that Nelson lingered and was the last one to come out of the chapel and the reasons why  is discussed in great detail in Sweethearts.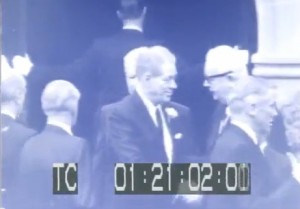 The chapel doors are closed by the man behind Nelson and Jack Oakie, who comes from near Melchior to walk around to Nelson's other side.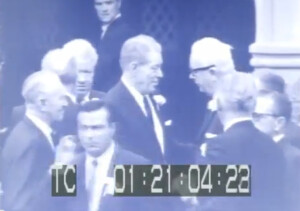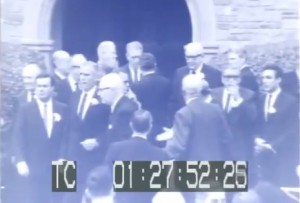 Lauritz Melchior is the first to go directly to Nelson and offer condolences. Nelson even smiles a bit…. and then the others close ranks around Nelson and do the same. One man not only shakes Nelson's hand but puts his other hand over Nelson's…a compassionate gesture. Another one who we don't see clearly must say something kind to Nelson because he nods his head in response. This gesture of caring to Nelson's feelings is just amazing…if one didn't know the circumstances, one would look at this video and be certain that Nelson Eddy was the widower!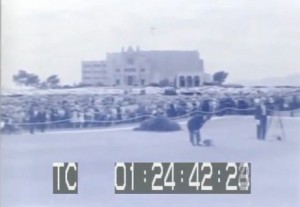 Here are thousands of fans watching and listening to the funeral service piped through loudpeakers with Jeanette's records singing…Nelson called it "a circus."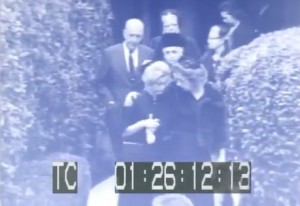 Jeanette's beloved sister Blossom is the first to exit from the side with Nanette, the granddaughter of the oldest MacDonald sister Elsie. Note Blossom is walking with, talking to and comforting the young grief-stricken girl rather than Elsie – the girl's grandmother! Elsie and her husband Bernard walk behind Blossom and Nanette. Behind Elsie and Bernard is Emily West and what appears to be her sister.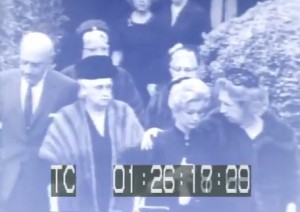 While Elsie in personality was more the cold, heartless type (like their mother Anna MacDonald), Blossom was always the comforting sister, the strong one emotionally who was always there for her baby sister Jeanette. Blossom and Jeanette were similar in their nurturing, compassionate yet wickedly fun natures. No wonder the two sisters were so close.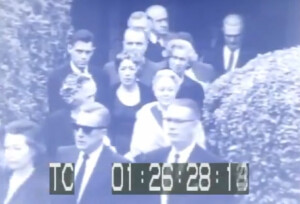 Now Gene Raymond is seen leaving…he's got dark glasses on toward the bottom left of  the photo.  It's interesting to note that none of the honorary pallbearers, several of them who were "in the know", approach Gene or offer comfort.
Such strange goings on at Jeanette's funeral but this footage is very telling in unexpected ways. Thanks to Katie and Angela for making it available. Watch the video below:
The title of this post, by the way, was Nelson's quote from the Boston Sunday Herald dated Jan 17, 1965: "I shall be at the funeral on Monday. It will be the most miserable day of my life."
That statement alone tells you volumes. When you think of the many other tragic losses this man had in his life and too many "miserable" days…that he considered the funeral of Jeanette MacDonald the most miserable day he would ever know in all his lifetime…well, there is simply nothing more to say.