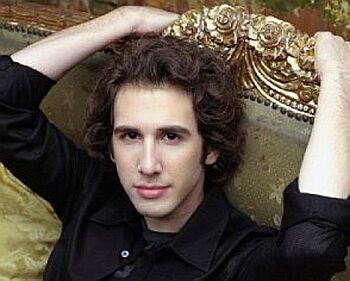 Nelson and Eddy….more online discussion of Celine Dion's name choices for her twin sons. And, in particular, a comparison of a 20th century singing superstar (Nelson Eddy) to a 21st century singing superstar (Josh Groban).
Comparison of "our" Nelson Eddy to Josh Groban is not a terrible thing. I have been to a Josh Groban concert and it is very reminiscent of what a Nelson Eddy concert was like back then – a gorgeous male singer wowing the audience with "long hair" music….an almost-all female audience with women old and young swooning over every note…and screaming their applause.
Security these days is tighter than it was back in Nelson's day, so Josh doesn't have women rushing on stage mid-performance. But who knows…maybe Josh returns occasionally to his hotel room to find an eager fan hiding under his bed! That too happened to Nelson Eddy in his heydey.
For those of us who are younger and never had the joy of seeing movie star Nelson Eddy in person, we can at least get some idea of how wonderful/unique it is to have a gorgeous operatic singer to squeal over. I wrote once that Nelson Eddy was like a rock star of his day…and that was no exaggeration!
Thank goodness the 21st century bobby-soxers have a classical singer to adore!