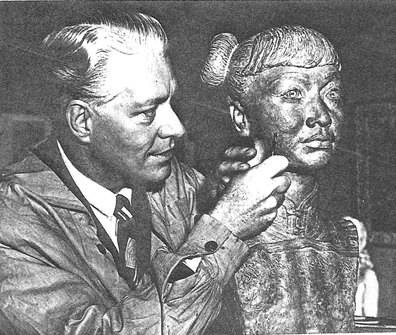 As you may know, we own the original of Nelson Eddy's excellent lifesize sculpture of the famous Chinese-American movie star, Anna May Wong. Although the sculpture is undated, we have a photo of Nelson working on it in 1943. On the back of it are his initials and the date "43".
We did offer this years ago and sold exactly one replica of it. Recently we've had some requests for it again but needed a few orders to cover the costs of prep work and a new molding to make it available again.
We have had enough interest to resume the project…so are making it available again.  The bust is lifesize but actually a larger piece because more of Ms. Wong's torso is sculpted – not just a head shot. Many who have seen it think it is Nelson's best sculpture.
Please contact us if interested in owning a lifesize copy of this Anna May Wong bust.