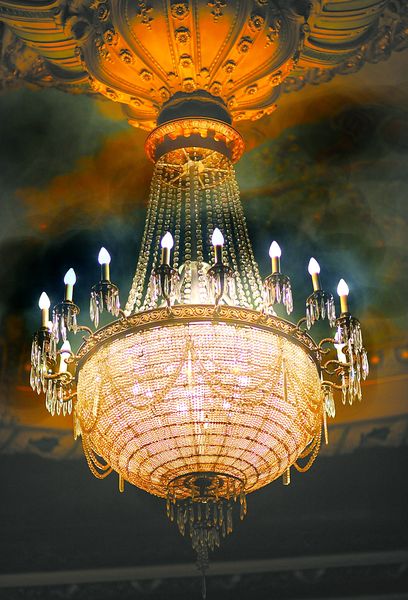 The Jeanette MacDonald – Nelson Eddy story will be featured in the musical stage production of "A Scandalous Affair" on March 13, 2010. Location: Mishler Theatre, Altoona, PA. Tickets: $35. The show stars international opera singers Hallie Neill and Theodore Lambrinos (formerly of the Metropolitan Opera). "A Scandalous Affair" was written by Hallie Neill and and based on the best-selling biography Sweethearts by Sharon Rich. Rich will be a featured guest and will answer questions and sign books after the performance. This event is a fundraiser for the theatre.
The Mishler website link is here and ticket info here. A highlight for Jeanette MacDonald and Nelson Eddy fans is that an original chandelier used in the 1937 movie Maytime was purchased at the MGM auction and now hangs in the Mishler Theatre.
Sharon Rich was friends with Jeanette MacDonald's older sister Blossom Rock ("grandmama" on the original TV series The Addams Family). Ms. Rock wanted her sister's bittersweet life story told and authorized Rich to write it. Rich not only interviewed over 200 people in researching Sweethearts but also had access to Jeanette MacDonald's unpublished autobiography, the unfinished memoirs of Nelson Eddy's mother, plus hundreds of pages of handwritten love letters, diary entries and other contemporary source materials.
Read a newspaper article about this event here.