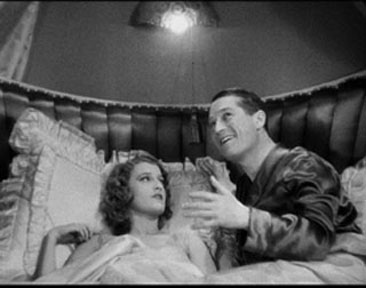 Music and Lubitsch
In the years after a rigid Production Code imposed morality on American cinema, occasionally a studio would go begging to the Production Code Administration. The studio would say, "Hey, we have this movie that was made before the Code. Please, please can we rerelease it?" Often the PCA would say no, but sometimes it would say, "OK, sure, but only if you make these cuts."
Paramount went to the PCA in 1936 with such a request concerning director Ernst Lubitsch's "The Smiling Lieutenant" (1931) – one of the four films included in the Criterion Collection's new Eclipse series DVD package "Lubitsch Musicals." PCA chief Joseph Breen screened the movie and came back suggesting not one or two or three cuts – but 27. Basically, he suggested turning the movie into a short subject. But he was really saying something else. He was asking Paramount how it could waste his time on such licentious, offensive trash when everyone knew it was his job to shield the public from such monstrous, amoral horrors as "The Smiling Lieutenant."
These days people are bound to feel differently about "The Smiling Lieutenant," and the three other musicals in the four-DVD set. The films, made from 1929 to 1932, are some of the most urbane – and in some cases risque – that Hollywood produced at that time.
Three of the movies star Maurice Chevalier, a name probably unknown to younger movie fans and misunderstood by even those familiar with him. Today, to the extent that he's remembered at all in America, he's an old man singing "Thank Heaven for Little Girls" on a park bench in 1958's "Gigi." In fact, to know Chevalier for that alone would be like knowing Paul McCartney solely for his most recent album. In Chevalier's prime – captured in this series – he embodied onscreen a character that was libidinous, playful, insinuating and sexually rapacious. He was America's idea of a Frenchman: charming, fun-loving and sexually insatiable.
With Chevalier onscreen, it was always understood that he has gone to bed with hundreds if not thousands of women and has been faithful to none of them, but no one minds because, hey, he's French. He is impish, and his behavior borders on ridiculous, but there's a wise current underneath, an Old World understanding that the pleasures of life are the essence of life. Descriptions can go only so far. Imagine explaining Mae West to someone who has never seen her. You need to see this guy.
"The Smiling Lieutenant" (1931) finds Chevalier at the ideal place in his stardom, established but still flowering. He stars as a lieutenant who is flirting with his mistress (Claudette Colbert) one day as a parade goes by. A frumpy visiting princess (Miriam Hopkins, who is hysterically funny) happens to be passing, thinks he's making eyes at her and becomes offended, provoking an international incident. What scandalized the censors is that the movie makes a mockery of marriage and celebrates premarital and extramarital sex, which is reinforced by the film's slightly wistful and sophisticated ending.
Eclipse's mission is to bundle undiscovered and forgotten classics. There are no commentaries or special features – just the movies, transferred according to Criterion's rigorous standards and made available at a fraction of the cost of buying them separately. "The Smiling Lieutenant" was unavailable for so long that for years even some eminent film scholars assumed it to be lost. It found its way onto laser disc about 10 years ago, but aside from that and a single screening on Turner Classic Movies in 2003, it has been virtually unavailable
The other star of the Eclipse set is Jeanette MacDonald, another famous name who is remembered for the wrong movies. She is most often associated with the starched, sanitized films she made later with Nelson Eddy at MGM. But working at Paramount in the pre-Code years, MacDonald was sly and sexy – the difference is night and day. In the pre-Code days, she was known as the screen's "lingerie queen," and the aim of her movies was to find pretexts for her to stay in her underwear.
She was first teamed with Chevalier in "The Love Parade" (1929), the earliest film in the Eclipse series, an early talkie that has none of the stiltedness of other films from the same year. Working with the same heavy, boxy sound equipment that every other director was saddled with, Lubitsch turned in a gorgeous, flowing, effortlessly graceful film about a young queen who marries a notorious ladies' man.
Their second collaboration was "One Hour With You," about a happy couple whose marriage is threatened when the wife's friend Mitzi (Genevieve Tobin) starts lusting after her best friend's husband. This prompts Chevalier to sing: "I love Colette (MacDonald)/ I haven't weakened yet/ But oh, that Mitzi." When he finally does weaken, he sings, "I didn't want to do what I did, but I did/ And now what can I do?" And then, looking straight into the camera, he addresses the men in the audience, "I ask you, what would you do? Heh, that's what I did, too."
The peculiar entry in the Eclipse series – but welcome for its very strangeness – is "Monte Carlo" (1930), with the young MacDonald, charming as ever, paired with Jack Buchanan, the British stage star remembered by Americans today mainly for playing the zany director in the Fred Astaire film "The Band Wagon" (1953). Buchanan looks like a sneaky servant more than a leading man, and his pairing with MacDonald is downright bizarre. It's difficult to believe for a second that he's attracted to her. Even Chevalier could sometimes seem fey, but next to Buchanan, Chevalier was John Wayne.
Chalk "Monte Carlo" up as a likable misfire, a curiosity piece more valuable for its historical value than its entertainment value. That leaves three others, which are good enough to be watched over and over. At a list price of $59.99 (but much cheaper if you do a little shopping), that's not bad.
After you've discovered these films, get hold of "Love Me Tonight" (1932), the third Chevalier and MacDonald pairing and their best film together. It's a lot like these movies. It has Paramount's sophistication and gives you the same feeling that the others do, of having entered some benign erotic universe. The only difference is that it wasn't directed by Lubitsch but by Rouben Mamoulian.