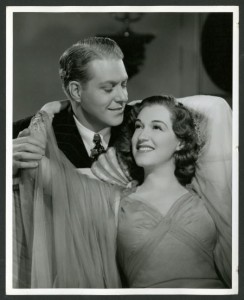 Risë Stevens, the last surviving movie co-star of Nelson Eddy, passed away on March 20, 2013. From the New York Times obituary:
Risë Stevens, the internationally renowned mezzo-soprano who had a 23-year career with the Metropolitan Opera, where she practically owned the role of Carmen during the 1940s and '50s, died on Wednesday at her home in Manhattan. She was 99.

Her son, Nicolas Surovy, confirmed the death.

On the Met's roster from 1938 to 1961, Ms. Stevens was a superstar in an era when operatic superstardom was conferred mostly on sopranos and tenors. A Bronx native from a modest background, she was widely admired as a populist who help democratize the rarefied world of opera. She was known to a large public not only through her recordings and recitals, but also through her appearances on radio and television and in motion pictures.

After retiring from the stage, Ms. Stevens had a prominent second career as an arts administrator with the Met and as president of the Mannes College of Music in New York City.

As a singer, Ms. Stevens was known for her acute musicianship, her expansive repertory, her accomplished acting and, in particular, her warm, velvety voice. (In 1945, Lloyd's of London insured her voice for $1 million.) Though she occasionally sang Wagnerian roles early in her career, she soon abandoned them in favor of the less heavy, though no less rich, parts to which her voice was ideally suited….

In Hollywood, she sang in "The Chocolate Soldier" (1941), with Nelson Eddy, and in "Going My Way" (1944), with Bing Crosby; she also supplied the voice of Glinda the Good Witch in the animated film "Journey Back to Oz" (1974). On television, she appeared often on "The Ed Sullivan Show" and "The Tonight Show."

Despite her acclaim, Ms. Stevens was by all accounts a down-to-earth diva, as comfortable singing Broadway musicals — as she did in a 1964 production of "The King and I," by Rodgers and Hammerstein, at Lincoln Center — as she was singing Bizet. As the magazine Opera News wrote in 2006, Ms. Stevens "was perhaps one of the sanest big opera stars of her time."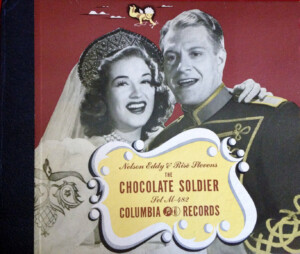 Ms. Stevens recorded a record album with Nelson of "The Chocolate Soldier" and was a guest star on his radio show.
Read an interview excerpt here from Mac/Eddy Today magazine with Ms. Stevens regarding Nelson Eddy and Jeanette MacDonald.
Her "Electric Hour" appearance with Nelson is available here.
The New York Times obituary is can be read here.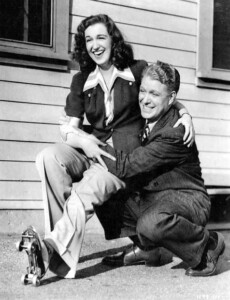 Listen to Risë Stevens and Nelson Eddy sing "My Hero" from The Chocolate Soldier here.
And finally, below is a snapshot of Ms. Stevens at age 98! We understand she was active throughout her 90s and we are glad she had a happy and long life! She was one of those few great opera voices that found success in movies during an era when opera and Hollywood didn't normally mix well. She preferred to return to opera, though, and said she regretted that Nelson didn't do the same when his film career ended.
Below is a video interview with Rise Stevens from 2011.