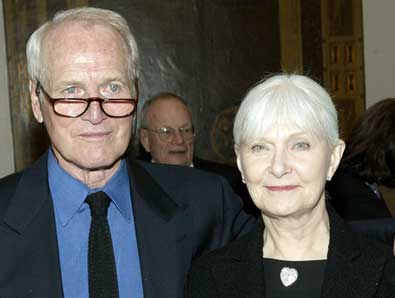 Very sad news…one of the English papers is reporting that Paul Newman may be near death, from lung cancer.
I have known for about a year that he was ill, as his wife Joanne Woodward began curtailing various activities to stay close to his side. He has been treated for cancer here in NYC.
Joanne Woodward, as you may know, is a die-hard Nelson Eddy fan. She saw Naughty Marietta about 15-17 times and loves to tell the story about how she met Nelson at a restaurant after she won her Best Actress Oscar for Three Faces of Eve. She went over to him and gushed how much she enjoyed his films, how many times she'd seen Naughty Marietta, etc. – to Nelson's amazement. Woodward said her hubby was amused and tolerant of "the other man" in her life.
When I first met her a few years back, I gave her one of our Nelson Eddy Centennial tote bags … filled with a few items I thought she might like. She was giving one of her wonderful film screening afternoons – a tribute to Jeanette MacDonald and Nelson Eddy. She spoke to the audience and with tears in her eyes, said it was one of the most wonderful gifts she had ever gotten. And that when she got home with the tote bag Paul Newman had taken it from her and looked at its contents, laughing at how she still adored Nelson Eddy after all these years.
Like many of you women whose long-suffering husbands have been tolerant of your "addiction" to Nelson Eddy – well, it was amazing to know that Joanne Woodward and Paul Newman had a similar scene at home! (Movie stars…they're just like us!)
I have always found Ms. Woodward to be a gracious and kind lady, with a sense of humor, honesty and courage in speaking out about the Jeanette MacDonald–Nelson Eddy romance even when it wasn't the politically correct topic of discussion. I have met several people who know the Newmans, or have worked with them, and they only have laudatory things to say about them – especially how they've used their fame and money to help others.
My heart goes out to them.
Update: Martha Stewart posted several pictures of herself taken with Paul Newman at one of his charity events last weekend.