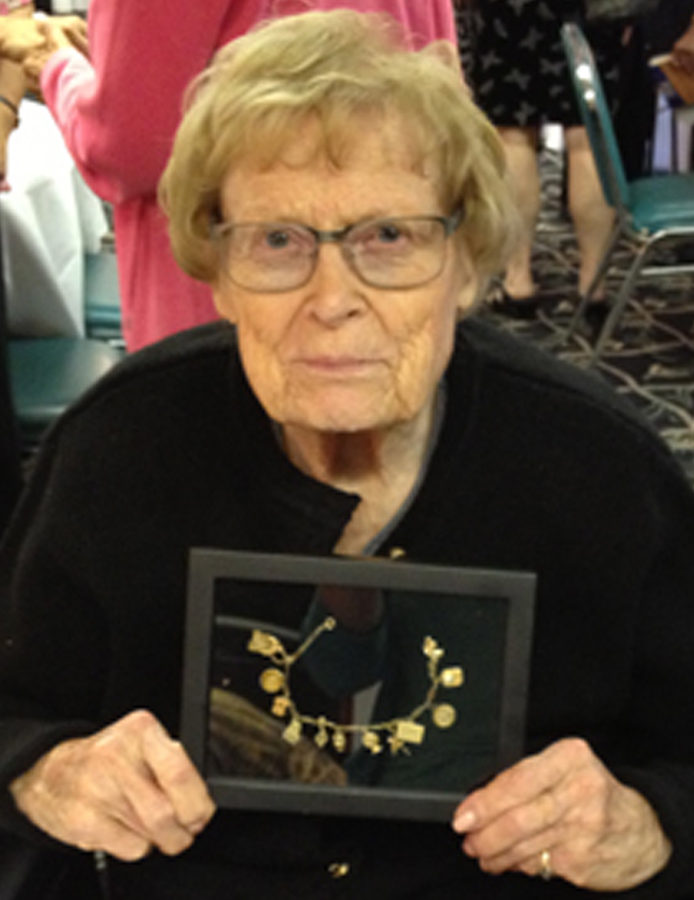 Perhaps no other club meeting to date was such a shock and tear-jerker as the one in which Madeline Bayless decided to share with the group a gold charm bracelet given by Nelson Eddy to Jeanette MacDonald in 1938.
We just learned a short time ago that longtime member and invaluable source and friend to us all, Madeline Bayless, just passed away peacefully in her sleep this morning. She was 92.
Madeline knew Nelson from 1933 when he first signed with MGM. Her father Jim Bayless was in the studio music department and became a trusted friend to Nelson. He built Nelson's home recording setup and also taught Nelson how to record himself singing multi-voice harmonies. As we know, that later served Nelson well when he made commercial recordings singing 4-part harmonies and later did a myriad of voices for Disney including Willie the Whale  in the 1946 film Make Mine Music.
The first time Nelson came over to the Bayless home in 1933, nine year old Madeline opened the door to greet him. She has been a fan ever since. Nelson was a guest to their home several times, she listened to him discussing his romance with Jeanette over the years, calling her "my girl" and talking about various things such as gifts he'd bought for her. In later years when both Nelson and Jim had departed MGM – Jim Bayless was one of the co-founding VPs of Capitol Records – Madeline accompanied her father on several occasions after Jim recorded Nelson's radio shows, burned them to large records and drove them over to the house known as "Mists" so Nelson could listen back to these shows and critique himself and plan future programs.
Madeline is pictured below at last year's Los Angeles meeting with Woody Van Dyke's grandson, Woody 4, and Maria Escano.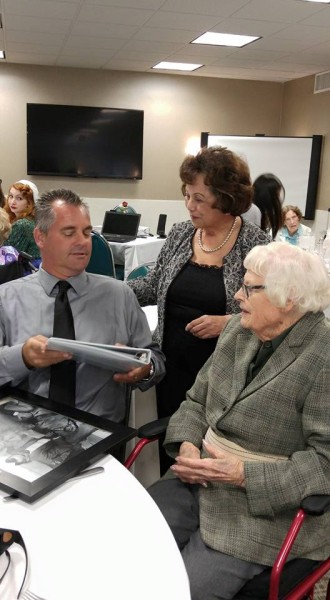 Madeline was a very private person and was a club member for about 5 years before revealing to me her association with Nelson. We were at Lake Tahoe together and she broke down in tears at hearing others sneer that Jeanette was happily married to Gene, Nelson was happily married to Ann, etc. "It's not true," she told me and even though those attacks were against me, I comforted her as she wept…because she knew from experience how hard it was for Nelson to live all those years hiding his relationship with Jeanette.
Madeline did amazing research and understood Nelson's re-writing of song lyrics and what was happening in his life as expressed in how he would rewrite a song for that occasion.  Once I realized her expertise and knowledge about this, I encouraged her to start sharing her knowledge at the LA club meetings and so, even though she was shy and didn't want to speak publicly, her friend Linda Tolman (pictured below) read aloud the presentations that Madeline prepared. We are so grateful that Madeline shared her knowledge with us. You can watch all of them at this link.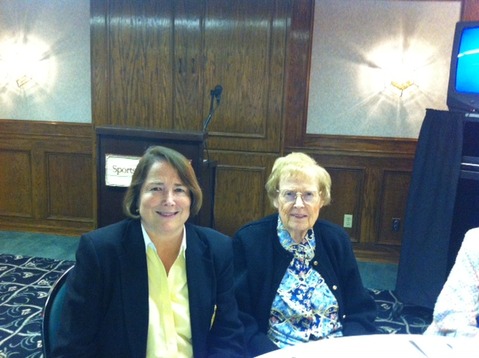 Madeline was also good friends with Shirley Jean Otto who as a young girl was a secretary in the Jeanette fan club and has been a team fan for decades. At the dedication of Nelson Eddy Drive near where Nelson is buried, Madeline and Shirley paid for the flower vases that were put next to the graves of Nelson and his mother Isabel. I am sure that all of us who have left flowers at Nelson's grave appreciate their kindness. (The photo below shows Linda and Madeline.)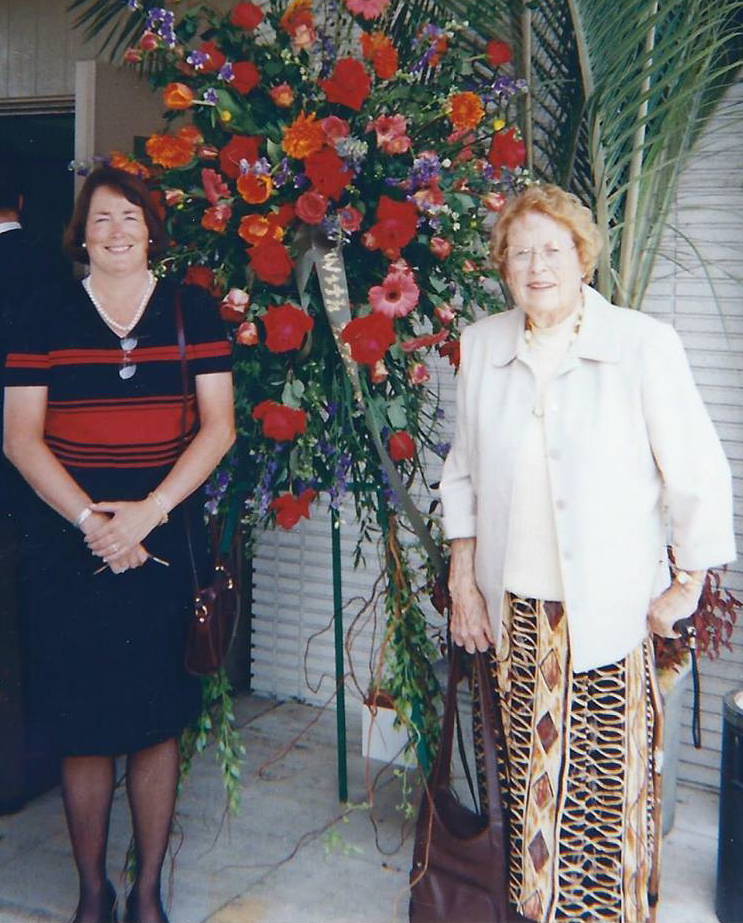 I will no doubt post more photos but we owe Madeline a huge thank you for being brave and sharing the information she knew first-hand and all her research over the years. Just this morning I was FINALLY finishing up our club Journal #72 in which we are publishing the transcribed interview in which Madeline described her entire association with Nelson. Ironic….and now I have go back and revise this magazine yet again to mention the LATE Madeline Bayless.
We will miss you terribly, Madeline. Thank you for your years of friendship, help, support, loyalty and unwavering dedication in setting the record straight on the Nelson-Jeanette love affair. You were there, you knew Nelson, you saw some of it yourself and you verified several important points. Your brother Jim's poignant recollection of the tenderness between the young Nelson and Jeanette is one of my favorite moments between them and the last paragraph of my book Sweethearts.
Per her own wishes, Madeline is being cremated with no funeral. However, we will have a special memorial and tribute for her at our upcoming LA club meeting on June 26, 2016.  Join us if you can.