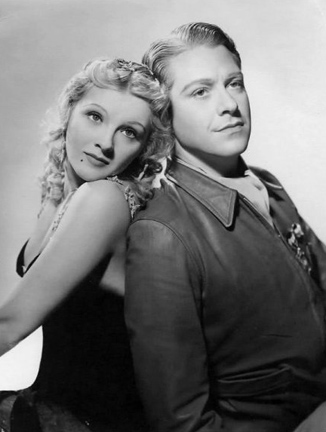 The Washington Post recently ran an article about Ilona Massey's longtime Bethesda residence, which has fallen into disrepair and is for sale:
Time was probably kinder to Hollywood starlet Ilona Massey than it was to her Bethesda home. Although she died in 1974, she lives on forever, her blond hair and deep voice just a Netflix rental away in movies such as "Frankenstein Meets the Wolf Man" and "Love Happy."

Her house, on the other hand, is described in its sales literature as a candidate for a tear-down. The front gutter is pulling away from the roof of the white neoclassical rambler on Goldsboro Road near MacArthur Boulevard. Wallpaper peels from the walls like so much desiccated lichen. The kitchen floor is littered with bits of shattered skylight.

Kristin Gerlach, the agent selling the 1935 house, gingerly steps over what is either the tail of some forest creature or a tiny mink stole.

"It's been on the market for a year," Kristin says of the house, called Happy Valley and priced, along with its 5.5 acres, at $1,495,000. "It's been under contract a few times, but then they backed out."

Ilona was under contract once, too, to Metro Goldwyn Mayer. She was one of three dozen actresses imported from Europe in 1937 to feed Hollywood's insatiable desire for the next sultry foreigner.

Ilona Hajmassy — her original name — had grown up in Hungary, the daughter of a disabled typesetter. "My salvation," she once said, "is that I have known misery and hunger. In my youth in Budapest I didn't know the taste of meat until I was 7 years old. That's how poor my family was."

She was apprenticed to a dressmaker and spent her earnings on singing lessons. She got a job dancing in the chorus of a Budapest musical comedy house, then sang at the Staats Opera. Her Hollywood debut was in 1939's "Balalaika," opposite Nelson Eddy. [Note: her first film with Nelson was actually 1937's Rosalie, pictured here.] Wrote the New York Times: "She looks like Dietrich, talks like Garbo and will probably be smiling from all the fan magazine covers in no time."

In the end, Ilona would make only 11 films, the last 1949's "Love Happy" with the Marx Brothers.

Her fourth and final husband was the reason she settled in our area. Donald Dawson was a U.S. Air Force general and a former aide to Harry S. Truman. Perhaps the two shared a hatred of communism, as well as a love for each other: Ilona often led pickets in front of the Soviet Union's United Nations headquarters.

During the Hungarian uprising of 1956, she taped a message to her former countrymen while packing CARE packages. "I will try everything within my power to help you," she said. "If necessary, we will give our blood, too."

Ilona sang occasionally — nightclub gigs in Havana and South Africa — but her life in Bethesda was quiet. She was content, she said, to make paprika chicken and play with her two dogs: black Great Danes named Hero and Nero. She loved animals, and in 1972 the Happy Valley estate was the setting of a party celebrating the opening of a Washington office of the Fund for Animals. Two Canadian timberwolves — Jethro and Clem — were the guests of honor. Ilona died two years later and is buried in Arlington National Cemetery. Her husband remarried, then died in 2005 at age 97.

Their house is vacant. In one dusty room, a large photo of the general is propped on a mantel. A picturesque stream trickles outside, just six feet from the edge of the house.

The stream is the problem. The Corps of Engineers says any new house must be 100 feet away. The lot may not be subdivided. The existing house is probably too far gone to save.

We all eventually will fall into disrepair and disappear, our only trace a pile of photographs, a few home movies. Some of us will have better movies than others.