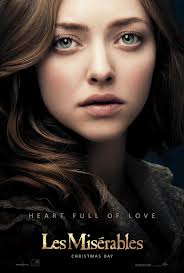 The filmed musical show Les Miserables opened over Christmas with much fanfare. Reviews have been slightly mixed..those receiving huge praise are singing actors Hugh Jackman and Anne Hathaway (who apparently is an early favorite to win a Best Supporting Actress Oscar). But some of the other (great) actors have been criticized for not being able to sing the Broadway score in a traditional manner. The director Tom Hopper (The King's Speech) filmed the musical numbers live so there is "talk-singing" in some instances. Musical purist and "American Idol" star Adam Lambert has taken a lot of heat this week for voicing on Twitter what some movie-goers are thinking:
"Les Mis: Visually impressive w great Emotional performances. But the score suffered massively with great actors PRETENDING to be singers. It's an opera. Hollywood's movie musicals treat the singing as the last priority. (Dreamgirls was good). The industry will say 'these actors were so brave to attempt singing this score live' but why not cast actors who could actually sound good?"

"Those raw and real moments when characters broke down or were expressing the ugliness of the human condition were superb. However… My personal opinion: there were times when the vocals weren't able to convey the power, beauty and grace that the score ALSO calls for."

"DO go see it for Anne Hathaway's performance. It's was breathtaking….One last thing though: Anne Hathaway was so good- had me tearing up. Oscar worthy performance for sure!"
Whatever your feelings about this film (feel free to add your comment about it), it is interesting that a few reviewers have brought up Jeanette and Nelson… always the highest standard singing stars for comparison when discussing a movie musical!
HeraldNet.com: "As the adult Cosette, Amanda Seyfried (who also warbled in "Mamma Mia!") displays a sweet soprano that makes her a throwback to the days of Jeanette MacDonald. Her scenes with young lover Marius (Eddie Redmayne) give the movie its dewy, tragical romance."
Voxxi.com: "There are moments when Redmayne and Seyfried resemble a modern-day Nelson Eddy and Jeanette MacDonald in their fluting, birdlike lyricism."