We are sad to learn today of the passing of Veronica "Vonnie" Krotts, a club member who was also a vital force in our Yahoo group. Vonnie was an artist and was known for her excellent colorizations of Jeanette and Nelson photos. She provided the cover artwork  for Mac/Eddy Today Issue #71 and she also did the next 3 covers for our upcoming magazines. Vonnie waged a tough, swift battle with ovarian cancer and left us this morning, just two weeks shy of her 65th birthday. Among the family she leaves is her husband Robert, who has been so gracious in sharing news updates with us during these last heartbreaking weeks.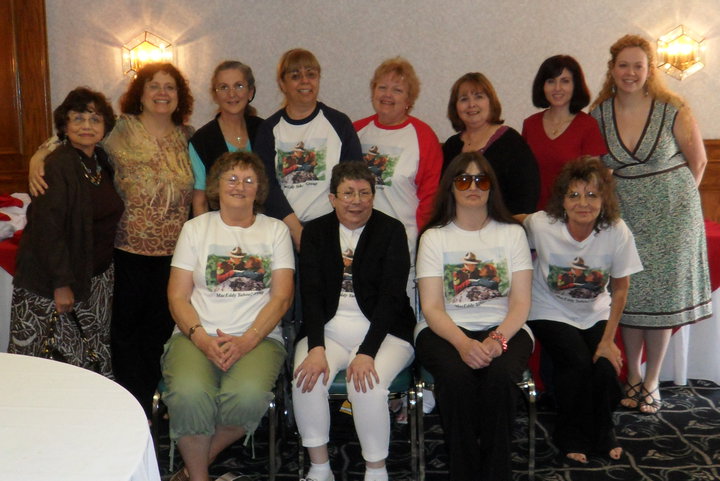 Above left is a shot of Vonnie parked at 1330 Angelo Drive in Los Angeles ("Mists"), while we were doing a driving tour of the homes of Nelson and Jeanette. Also, Vonnie is pictured here with other Yahoo group fans at the Mac/Eddy luncheon in June 2010.
Bern, our Yahoo group moderator, called Vonnie "genteel" and that's a perfect word to describe her. I spent some time talking with her privately in Los Angeles and it was a delight to see her heartily laughing over our Jeanette/Nelson discussion. She was such a kind person.
Below, the cover of upcoming magazine #72 that Vonnie designed.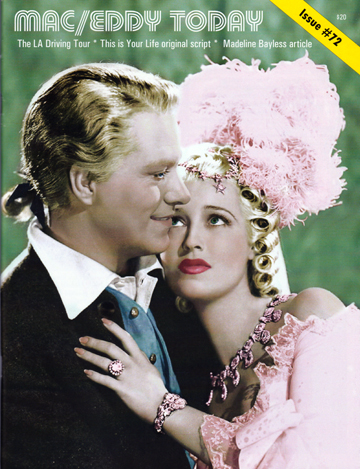 I asked Bern to write her memories of Vonnie:
vonnie krotts joined our maceddy yahoo group february 11 2009..she had a great love and respect for jeanette and nelson.. so in 2010 she joined 13 of the maceddy group members in california meeting at the sportsman's lodge.. we all did the great house tours of the jeanette and nelson homes and she was such a sport to drive folks around …she was very genteel and generous to all of us who had become "friends" and told me how happy she was that she attended..the "t" shirts we wore were from a picture she had artistically put in color..it was so perfect sharon designated it our official "t" shirt for the group.

shortly after that meeting vonnie began to colorize many photos of j and n..and they became like pieces of art. done so perfect..and flawless but she would always find some little thing she thought not perfect but she became our artist'e de jeanette and nelson and over the years we all got to know her so well..a spiritual and lovely lady with a very caring husband who has taken great care with her since she became ill with cancer…she has fought the good fight and now she is in god's hands…how we will miss her beauty and sweet soul…hopefully when the angels came…her beloved "sweethearts" voices led her home….
Update: Sandy Reed has shared more photos of Vonnie. Sandy is with Vonnie in the two shots below.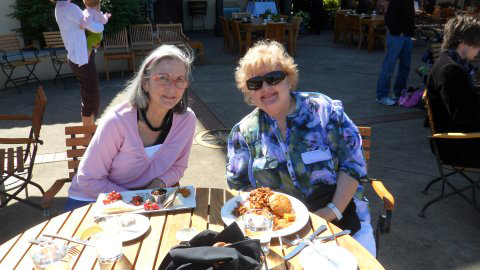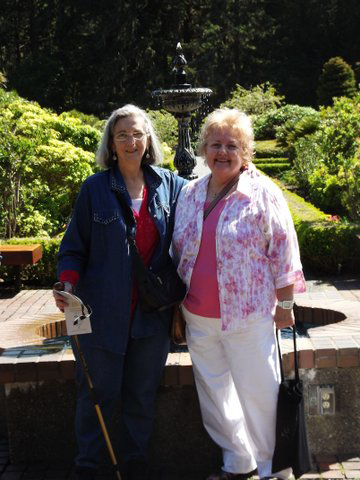 Below are the most recent photos of Vonnie at home with her husband Robert. Thank you, Sandy.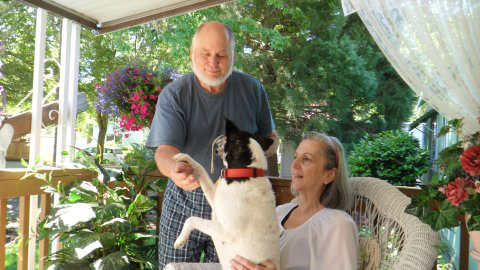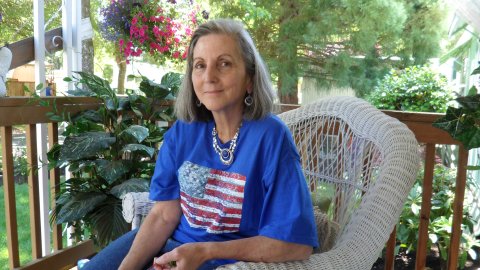 If you would like to share memories of Vonnie please add a comment.