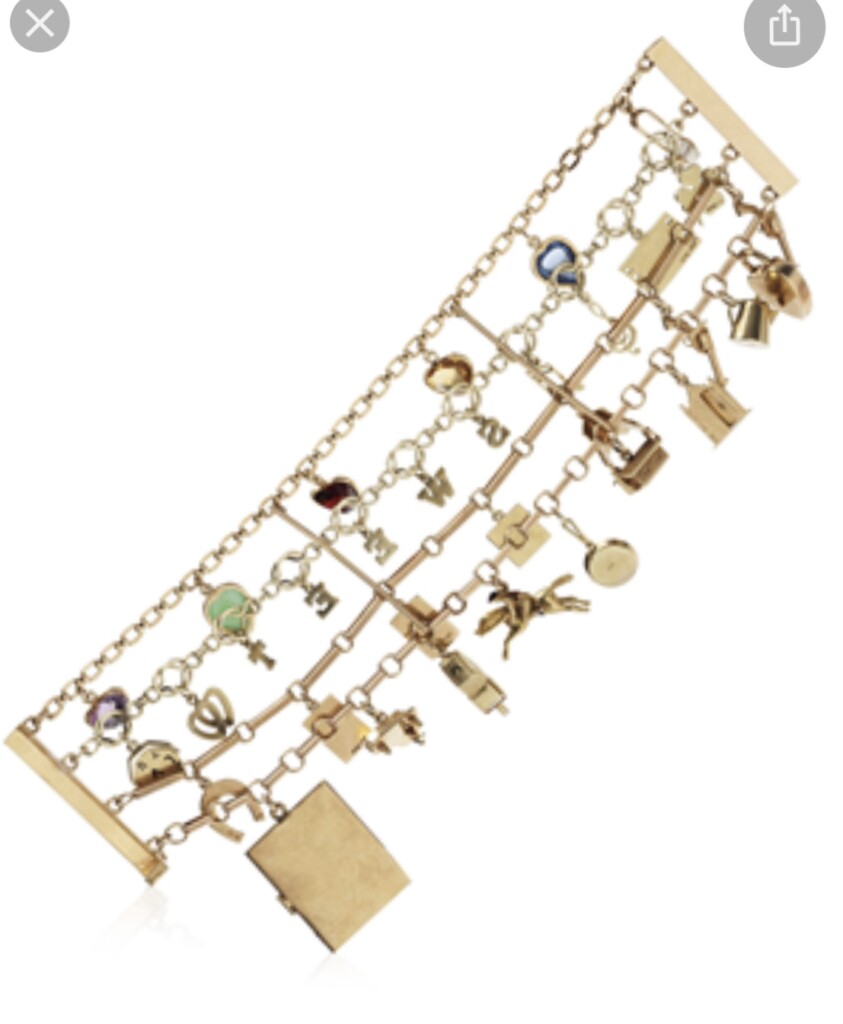 In 2016, Christie's sold a gold charm bracelet with this description: "FORMERLY THE PROPERTY OF JEANETTE MACDONALD, GOLD, MULTI GEM AND ENAMEL FOUR ROW CHARM BRACELET". The price was $3000. The question was: who gave it to her?
If you have read my book "Sweethearts", you will recall Isabel's comment that by 1942, her son Nelson had spent a million dollars on jewelry for Jeanette. Which begs the question, was this charm bracelet was one of those pieces? Because he liked charm bracelets and gave her a few of them that we already know about and have seen.
Linda Blythe brought this old auction to our attention. At first glance, I was able to determine the year of this bracelet and I quote here from our Facebook page: "Hmm… great find, Linda! Never seen this one before; the photo is from "Broadway Serenade" it would seem, as is what's written on it, "None But the Lonely Heart" /Tchaikovsky. If you've seen the film, it is part of that whole weird Busby Berkeley [finale] number. It was shot at the end of the filming, after Nelson's marriage and Jeanette's suicide attempt. One can assume, then, this bracelet is from 1939. Remember also that "Sweethearts" did not go into general release until 1939 as well." Below is the charm that provided the clue: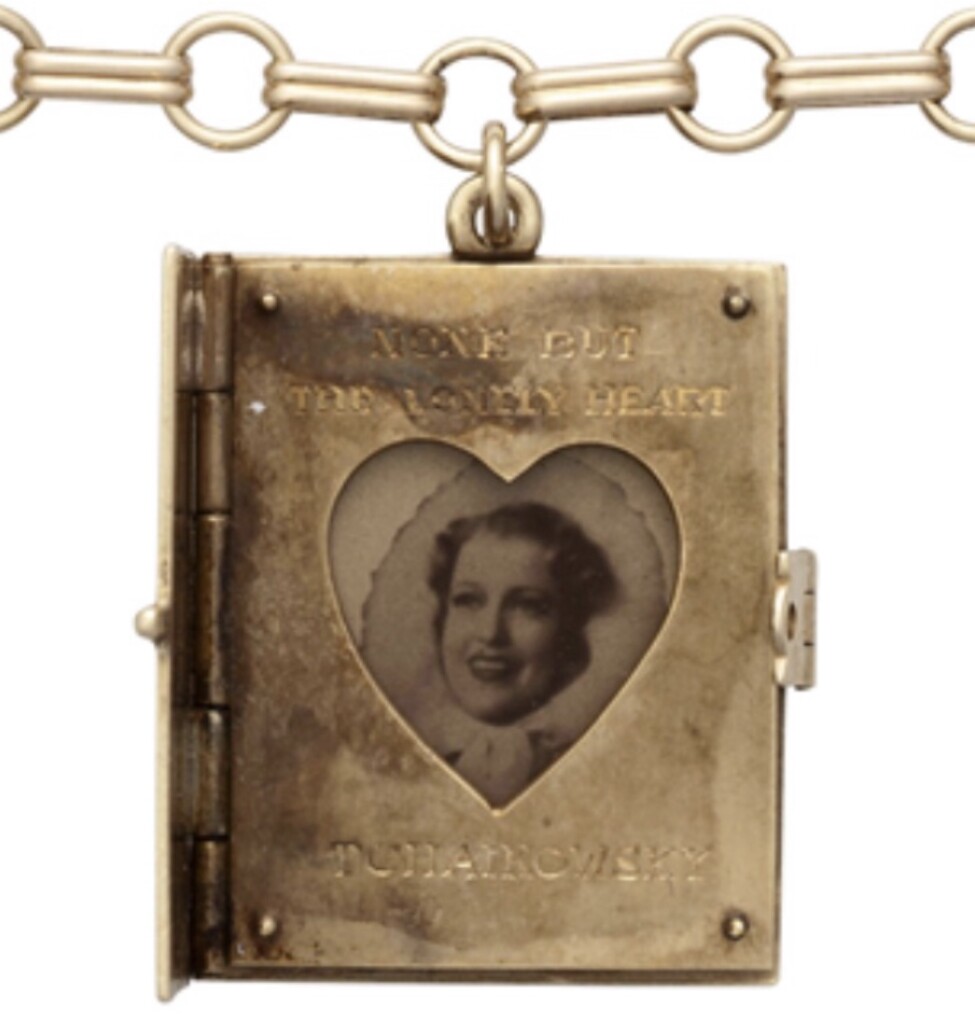 My initial gut instinct was that Nelson Eddy gave her the charm bracelet because it resembles the 14k gold one he gave her the previous year for her birthday in June 1938: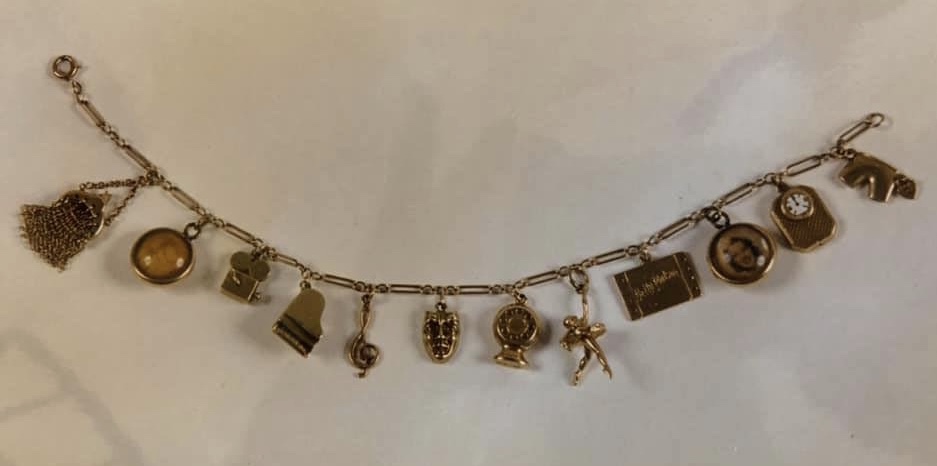 Jeanette wore this bracelet on her birthday, on set and also onscreen in the film "Sweethearts", easily visible in the radio scene below with Nelson: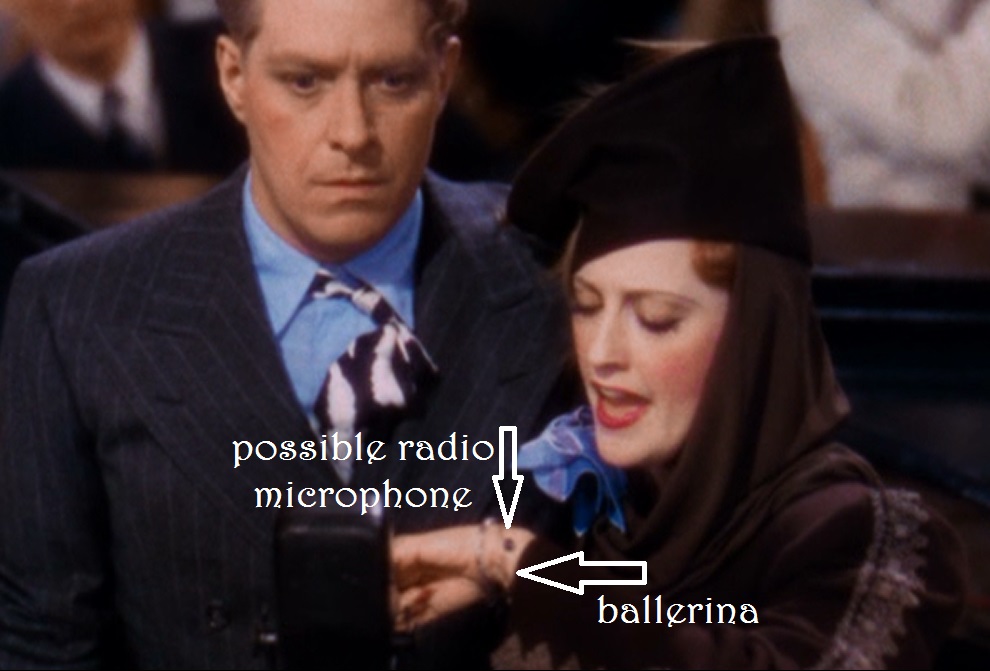 The first question would be, was this from Nelson? And if so, why? As a peace offering in his attempt to apologize and win her back after his marriage? To acknowledge her "lonely heart" and his? We know he made several efforts in the months before she agreed to re-sign her MGM contract and return for "New Moon." We can rule out Gene Raymond as there is no way he would have had "Sweethearts" promoted or the word written on it, as that would be supportive of Nelson, who was now presumably banned out of Jeanette's life. It could be a fan, friend or admirer, who might not understand the contradictory nature of "Sweethearts" and "Broadway Serenade"… but this is a very expensive bracelet, so that doesn't seem right. It could have been a gift from someone at the studio… maybe for being able to finish the film without killing herself … but again, why during 1939 would they rub it in regarding the film "Sweethearts" (ie, Nelson, who was "dead to her" at that time) and connect it to "Broadway Serenade"? (A movie which she really didn't like and basically phoned in her performance… except for singing "un bel di") Makes no sense…
One could speculate that Nelson sent this to her (or had his mother give it to her) wishing her good luck on her first American concert tour… which happened right after she finished "Broadway Serenade". These other charms could "mean something" to them except for the "Broadway Serenade" one. [Some of the charms seem obviously related to "Maytime" and "The Girl of the Golden West."] I can't see Nelson using it unless it's to point out her loneliness and his too… that the charm would even quote Tchaikovsky's name could mean something personal because Nelson sang "None But the Lonely Heart" as a standard during his entire 1937 concert tour (just before Jeanette's marriage to Gene Raymond) and on the radio 3 months after her wedding. Which begs the question, WHY was this song chosen as the main theme for that weird ending tacked onto "Broadway Serenade"? (Yes, it fit the plot but was more heavy-handed emotionally than anything else in the film!)
We know that Jeanette fell apart when Nelson went off the rails and ended up married to Ann Franklin. They often "sent messages" to each other in song whether in live concert, on radio, changing song lyrics, whatever. If we have learned anything over these years, it's that very little in their world is coincidence. Which may explain this bracelet and its similarity to the one Nelson Eddy gave her in 1938. Can't prove it but would seem it was his way to apologize and help make her understand that he still loved her and wanted her back.
If we could clearly identify all the other charms, it might indicate better who gave her this bracelet….
Linda pointed out that the "good luck" charm could be for Jeanette as she launched her first American concert tour. The charms were described as follows: "First row: look like tongs holding something round – any ideas ? 5 heart shaped gems. Second row: 4 leaf clover, film strip with "Maytime" engraved on it, Treble Clef, Music Note, SWEET, double open attached heart, octagonal gimbaled charm with IOEO. Third row: Two revolvers, Saddle holding a cabin, looks like an upright piano, Ace of Hearts, Ace of Clubs, horseshoe with Good Luck. Fourth row: Heart shaped lock, coffee pot, charm with doors or gate with "21" on them (described as having Cartier on it), frying pan with egg, woman on horseback, microphone, grand piano, "Broadway Serenade" locket with Jen's picture inside and "None But the Lonely Heart" inscribed inside." Plus the name of the composer of that song, Tchaikovsky.
Then Linda posted the reverse image of the bracelet…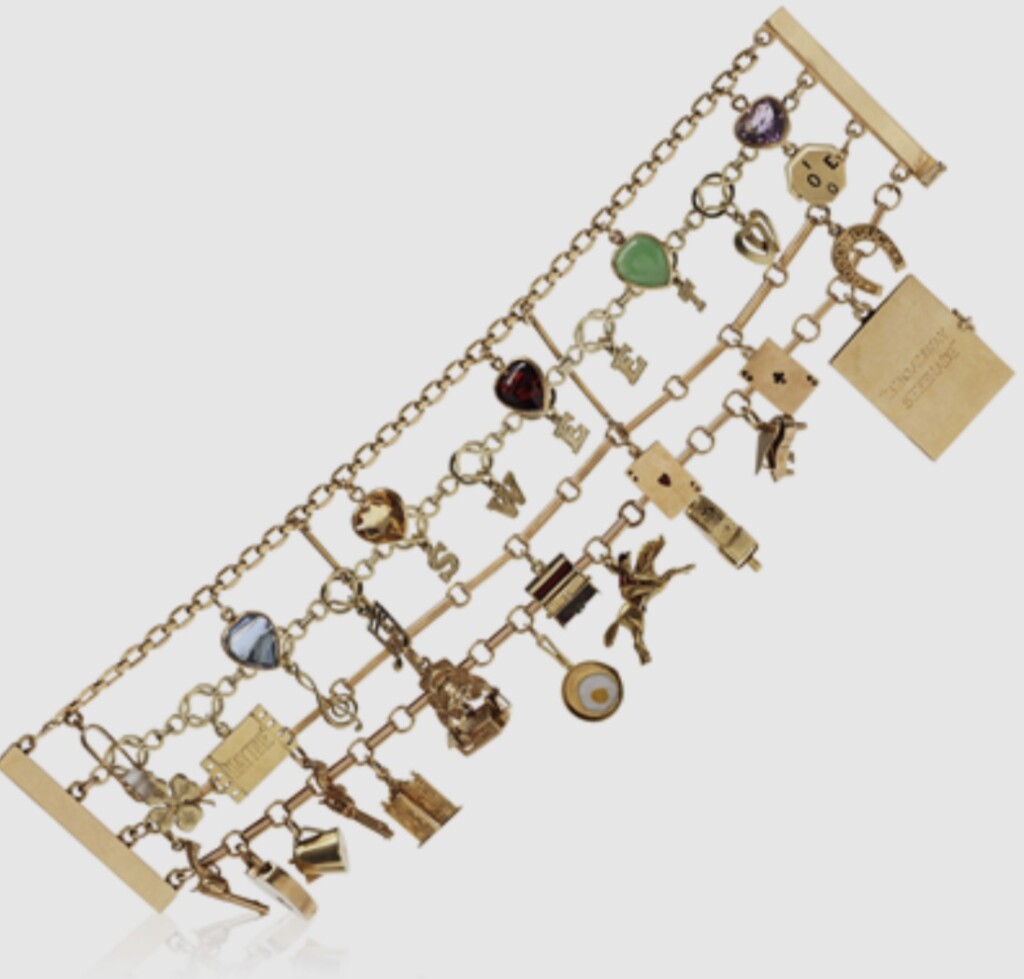 … and wrote: "The reverse image. The octagonal charm has L, V, Y, U. So the entire message from both sides is "I Love You". That kind of narrows down the identity of the giver. Ya think?"
Yes, by process of elimination, the words "I love you" could only come from "a husband", which gives us two choices. Many folks would assume that meant Gene Raymond. Yet as noted above, there's no way Gene would have give her a bracelet that would in-your-face promote Nelson as her sweetheart from "Sweethearts." (Just as with Jeanette's other gold charm bracelet, there's no way that Gene would have given Jeanette a bracelet with Nelson's picture on it!) So you do the math…
Thanks to Linda Blythe for bringing this to our attention.