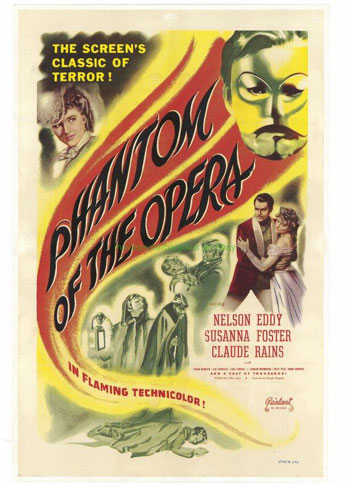 Susanna Foster, the brilliant but mentally troubled singer/actress, died early this morning at age 84, reports her son Michael Evans. She passed at 5:30 am on January 17th 2009 at The Lillian Booth Actor's Home in Englewood, New Jersey, where she had lived for several years. Her most famous movie was the 1943 Technicolor "Phantom of the Opera" starring Nelson Eddy and Claude Rains.
Those of you that attended the New York club meeting at which Michael spoke, will remember the tragic story he told us about his mother's mental illness and also the insanity of her mother. Michael's childhood was a nightmare and his brother (whom I met when I interviewed Susanna) was an alcoholic. In 1985 Philip lapsed into hepatic coma (liver failure) on Susanna's living room floor and died three days later in Van Nuys Hospital. That Michael – whose father was baritone Wilbur Evans – was able to keep his sanity at all throughout all this – is frankly, a miracle.
You can read more about this from Michael Evans himself at his new blog: http://www.susannafosterchronicles.com
For related Nelson Eddy-Susanna Foster THE PHANTOM OF THE OPERA collectibles, click here.
Please leave any feedback, condolences or any personal experiences you wish to share here.
Our thoughts are with you, Michael.
Sharon