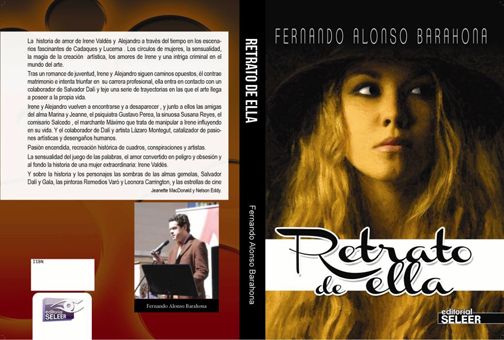 If you live in Spain, watch for the upcoming March 2013 release of a new novel by by Fernando Alonso Barahona. He is a Madrid film historian with 34 books about Hollywood to his credit, including Cecil B. De Mille (1991), Cinema, ideas and art (1991) King Vidor (1992), Spanish cinema Biography (1992), Charlton Heston (1992), Sean Connery (1992), Michael Douglas ( 1992) One hundred horror films (1992), Gary Cooper (1994) and All About Ingrid Bergman (2005).
His novel "Retrato de Ella" will be available in Spanish. The genre is "romance – suspense – historical" and Jeanette and Nelson are among the historical celebrities featured. Here's the synopsis (thanks to Google translate):
The story of Irene Valdes….The love story of Irene and Alexander over time in Cadaques fascinating scenarios and Lucerne. The circles of women, sensuality, magic of artistic creation, the love between Irene and criminal intrigue in the world of art….he shadows of soulmates, Salvador Dali and Gala, Remedios Varo and Leonora Carrington, Jeanette MacDonald and Nelson Eddy….[This is Barahona's third novel] after "Restoration" (2008) and Circle of Women (2010).
If you are on Facebook you can see a page devoted to the book at this link. PS: Fernando is a devoted Jeanette-Nelson fan and hosts a Spanish fan page for them on Facebook as well.