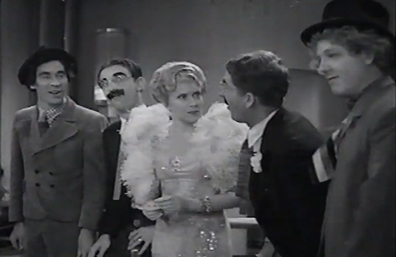 Did you know that Gracie Allen wore Jeanette's San Francisco costume in the 1939 movie Honolulu? In this comedy she had a musical number with 4 actors portraying the Marx Brothers.
Gracie Allen was about 5 inches shorter than Jeanette, so in the long shots of this scene we notice that the dress was WAY too long on her.
Interesting also that Gracie Allen and George Burns later co-starred with Jeanette and Nelson in a Mail Call radio show…wonder if that famous gown was ever discussed!
See below to watch the clip on YouTube.