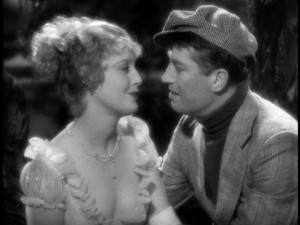 A great deal for Jeanette MacDonald fans living in or near Culpeper, Virginia!
See her 1932 hit with co-star Maurice Chevalier tonight only, November 7!
Not only do you see it in a theater but admission is – free!
Long before Tom Jones and his burning heart belted out "Love Me Tonight," this title was a racy movie musical from 1932.

Pulled from release a couple of years later because it was thought to be too suggestive, this exceptional, rarely seen silver-screen film premieres for free tonight at 7:30 in the Mount Pony Theater, and tickets are still available.

Talk about a cheap date.

"Love Me Tonight," on the other hand, promises to be "wise, knowing, life-embracing, and absolutely beautiful," says Larry Smith, nitrate film specialist at the Library of Congress National Audio Visual Conservation Center Packard Campus on Mount Pony.

Paris-born actor Maurice Chevalier stars as a poor French tailor who passes for royalty, and is apparently the Tom Jones type: wink, wink.

A young and pretty Jeanette MacDonald plays a lonely princess, who's not just wasting away, but wasted.

Smith, who's been watching movies for most of his 51 years, names "Love Me Tonight" as his all-time favorite, and not only that, "a cause for celebration."

The movie, running 1 hour and 22 minutes, "is a madcap musical tour de force of infectious melody from first frame to last," Smith says.

Check out No. 1 on his top 10 list of why "Love Me Tonight" rises to the top in today's In & Around section. And reserve your seat for some culture in Culpeper by calling the Mount Pony Theater reservation line at 827-1079 ext. 79994.