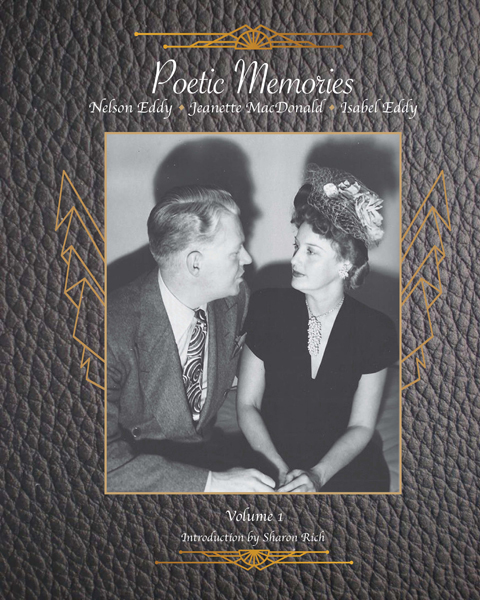 Today, Thursday, July 15, 2021, TCM (Turner Classic Movies) is having a Jeanette MacDonald & Nelson Eddy film festival beginning at 6:30 am Eastern time, screening 7 of their 8 films together!
In honor of this event, we released a new 8-book series entitled Poetic Memories. It's a Limited Edition, only available on this website, wire bound books, 11×8.5″, totaling over 300 pages, printed on glossy paper with unique cover photos for each book and color photos on every page.  Click here for more details and to order the book series.
Here for example is a poem by Nelson to Jeanette:
"I shall perhaps want you to lose all prudence for awhile,
To give me the wine of the Gods many times.
Till I am drunk with its charm and sweetness.
That I may remember for all the ages, the fiery passion of you.
And never forget the passing of this hour."
From the back cover blurb, copyright ©2021 by Sharon Rich, all rights reserved:
"He is waiting for you, out there on the cool night scented terrace, and you go to his arms aching for his love – this boy you once thought was not worth giving up a career for." – Nelson Eddy
"Poetic Memories is a compilation of eight scrapbooks lovingly compiled in the 1940s by a fan with an inside connection to Nelson Eddy's mother, Isabel. The original scrapbooks are reproduced in color. Each page features vintage magazine or greeting card clippings to complement a quote from the writings of Nelson Eddy, Jeanette MacDonald or his mother's unpublished memoirs. If you have read the biography Sweethearts by Sharon Rich, you may recognize some of the quotes, but many more are revealed here for the first time.
"Most of Nelson's quotes come from private diaries he wrote for Jeanette, often describing their intimate moments in graphic sexual detail, often in Victorian style. Nelson wrongly expected Jeanette to outlive him as he was seriously injured during WWII and later nearly died of pneumonia. He called his journals "insurance" to keep memories of their passion alive for Jeanette when he was gone. After his marriage to Ann Franklin in 1939, Nelson had kept a room at his mother's residence and set up a "shrine" to Jeanette MacDonald, his singing partner and off-screen love. Over the years he filled the room with his own artwork: nude drawings, paintings and sculptures of Jeanette. In the mid 1940s, Isabel began writing her memoirs and snooped into her son's private papers, including Jeanette's letters to Nelson. Perhaps unwisely, Isabel shared much of this very intimate information with a close friend. Isabel was eventually caught when lengthy pages of Nelson's writings were copied and leaked to the wrong people. While publicly forced to deny their veracity, Nelson was personally angry and felt betrayed. He moved his collection out of Isabel's house and distanced himself from her as a confidante. From a historical perspective, even though the poetic memories were never meant for public view, they and hundreds of letters providing insight into these years were miraculously not destroyed."
These books are scanned from the original scrapbooks, 75+ years old; some were in near-mint condition, others partially crumbled when opened to scan. Below is a sample page from Volume 5, which contains a quote from a Jeanette letter obviously written to Isabel Eddy, as Isabel shared the letter. It's not clear whether the photo accurately reflects the bracelet Jeanette is referring to but we do have written documentation that, according to Isabel, Nelson gave Jeanette over a million dollars worth of jewelry over the years. Here is Jeanette's quote:
"I think he feels a great happiness knowing that I will wear this gift of his for all the world to see – and yet not know – that it brings him so close to me that our love will live in every song I sing. 'They have been wet with my tears,' he said, "Touch them whenever you need me and I will be there.'"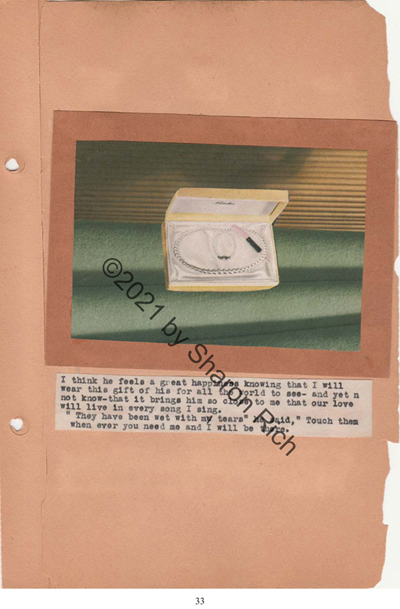 Again,  the link is here for the new book series.