March 6 2017 marked the 50th anniversary of the Nelson Eddy's death. I posted that there was a surprise coming and by golly, with literally minutes to spare before midnight my time, I clicked the button and uploaded for publication the only book that Nelson Eddy ever wrote! Here you see the front and covers. Like so many other revelations in the Nelson/Jeanette world, it is a miracle that this typewritten manuscript was located and survived 50 years…and that we were able to present it to you. For that we owe a heartfelt "thank you" to Linda Knight. For five decades she has kept in safekeeping precious items from their years together…even some possessions from Twin Gables that Nelson liked (or gave Jeanette) or that Linda recognized from Isabel Eddy's detailed descriptions in their hideaway home we know as "Mists"… certain picture frames, candle holders, books, Bibles and some of Nelson's beautiful nude artwork of Jeanette as shown below on the back cover, a signed 1940s drawing entitled (on the left margin of the sketchbook page) "My Madonna."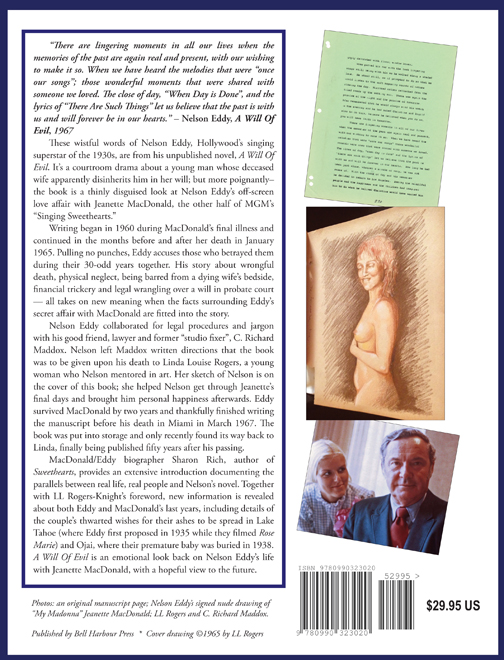 This has been an emotional and difficult process for all concerned. It's been a "coming out" for Linda as she revealed in her foreword her role in Nelson's life as his "emotional quilt of comfort" as he watched Jeanette slowly die and the aftermath. Because Linda could understand and deal with this, she was able to bring him a fresh, loving, hopeful look at a future without the "evil" people interfering in his life anymore… except for Ann Eddy. We know that Gene Raymond viewed Jeanette as more of an irritation cramping his style in the last years; from Jeanette's 1963 diary, for example, we see that Gene was absent a lot and there were lots of arguments when he was home. But from Linda we learn new details of Nelson's unwavering love for Jeanette despite active attempts from Gene Raymond, Jeanette's secretary Emily West and Ann Eddy to block him from her. And for what reason, really? To try to destroy to the end a special kind of love they couldn't understand or accept? All that I wrote about in Sweethearts about how things played out at the end of Jeanette's life…guess what? This is the heart and core of Nelson's plot in A Will Of Evil. In his own words, in his own typewritten book that I never even heard of until last year.
It seems that Nelson wrote this book as a way to confront, address and try to purge from his heart the hatred and disgust for people who had interfered in his life and in his love for Jeanette. It seems pretty much completed even though there are still a few crossed out lines and penciled-in corrections in the reproduced manuscript. In my introduction to our book I annotate through all the main characters and events to help point out who was who and what happened in real life that mirrors Nelson's "novel." Linda provides her background of watching Nelson work on the book and observing his interaction with Jeanette, as well as her own part of the story. When Linda mentions to me a time that Nelson was crying and distraught, having to get if off his chest and rattle off the names of many people he had to "forgive" starting with his father and moving forward with names of others who had so badly tortured him and Jeanette…he voiced the hurts and betrayals that had been inflicted and that he was still trying to forgive…well, you can see why writing this book was cathartic for him.
I want to speak candidly here. Over the years when certain women stepped forward, it has been hard at times for some to want to embrace their circumstances. I acknowledge that. But I have always shared their stories (if verified) if it helped our understanding. We seek to know and present the truth because in the end and still to this day, the story shakes out the same. Nelson per his own admittance, fell in love with Jeanette when he first laid eyes on her. He loved her to the end and Jeanette went to her deathbed calling for him; this Nelson verifies himself in A Will Of Evil. That love never changed or wavered despite life's bumps or even as physical dynamics were challenged by her illness in the final years.
Linda Knight did not have to come forward or share any of this including showing us where the site was in Ojai where baby Daniel was buried and where Nelson and Jeanette wanted some of their ashes to be spread. That she chose to speak up took courage especially in subjecting herself to possible personal attacks. Other women that Nelson knew over the years walked away, not willing to emotionally have "three of us in this marriage." One can presume watching Gale Sherwood in TV interviews with Nelson, that she got awfully tired of constantly hearing about how wonderful Jeanette was; she would cut it off and try to change the subject even though she hung in there with him. Even Linda tells me that the lawyer, Hollywood "fixer" and Nelson's friend Dick Maddox (who assisted Nelson with writing and legal procedures in the courtroom parts of the book) commented, "You loved Nelson unconditionally knowing he loved Jeanette."  And because Linda did – and still does to this day – we are able to experience Nelson's book in which he confirms so much under the guise of "fiction."
Take comfort in knowing how Nelson kept Jeanette alive for himself spiritually after her death; by keeping their physical possessions at hand with Linda and trusting her with their protection when he was gone; by writing a "novel" about his love for Jeanette; by singing a special solo number for Jeanette at each performance of his nightclub act; by sharing places and experiences with Linda that were meaningful to him with Jeanette; by talking to and communing with Jeanette until his own death… and acknowledging that she was still present as a "guardian angel" not only with Linda or Ted Paxson but in his book.
These were unique people, folks. The special chemistry you see on the movie screen in their films together was something unusual and lasting. Movie audiences of the 1930s were no dummies and had it right, it wasn't "acting." And now we have another piece of the story.
NOTE: This book is out of print as of November 2017 and is no longer available to order.