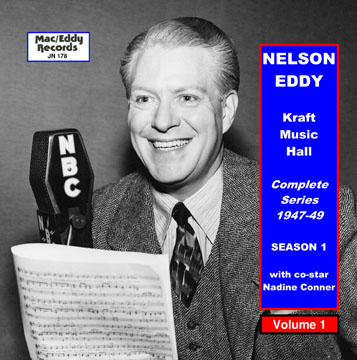 Nelson Eddy starred on the "Kraft Music Hall" radio series for three summers, 1947-49. For the first time, the complete series has been released on CD.
In 1947, his co-star was Nadine Conner. For the 1948 and 1949 seasons, Dorothy Kirsten took over.  For one show in 1948 Kirsten fell ill and was replaced by Jeanette MacDonald.
The "Kraft Music Hall" was a popular radio show from 1933 until Nelson Eddy's final show in 1949. Other hosts during the years included Paul Whiteman, Bing Crosby and Al Jolson. But by the fall of 1949, television had replaced radio in popularity.
Click here to see the entire series.