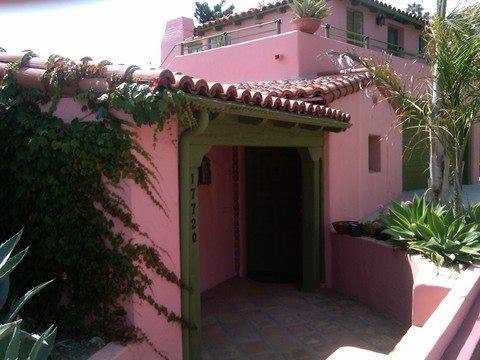 Pictured above is the "beach house" that Nelson Eddy purchased after his 1939 marriage to Ann Franklin. It was built in 1930 for opera singer Lawrence Tibbett by a famous African American architect, Paul R. Williams, whose amazing story is featured at the link below. (His full name was Paul Revere Williams.)
By 1939, Tibbett moved and Nelson Eddy was having difficulty living in the same residence as his new spouse Ann Franklin. He packed up his mother, Isabel Eddy, and moved her into this beachfront property. I'm sure the choice of homes was more for Nelson's comfort and sanity as a hideaway right on the ocean and far from "town." At that time, one went downstairs in the back yard right onto the beach. In the years since, Pacific Coast Highway was adjusted slightly so now one must cross over that road to get to the water.
The main house had two bedrooms and bath upstairs and a living room downstairs with a choir loft to sing from… with amazing acoustics and a view of the ocean. An indoor side stairway went to Nelson's new residence, a private studio atop the house with a 360 degree view.  (You can see his studio on the top right in the photo above.) Here Nelson set up his "shrine" to Jeanette and could paint and do artwork as he wished. Some original plumbing remains in his bathroom shower. No doubt Nelson would have come downstairs for major meals but very few friends came here. His horse was stabled up the road…past all the other homes on the street that were designed by Paul Williams. If you have read "Sweethearts," it was here that Clark Gable visited Nelson, and Nelson's wife Ann Eddy made an unwelcome appearance, insisting she would not allow Nelson to make "New Moon" with "that tramp", ie, Jeanette MacDonald. Which of course backfired; Nelson threw Ann out of the house and decided to make the film. According to our records, Nelson kept this house until 1942.
Below is a recent article about Mr. Williams. We have published several pages with more photos and more history of this house in Issue 72 that deals with all the Nelson and Jeanette major homes. Below is a photo of Paul Williams at a very famous building he designed for LAX airport!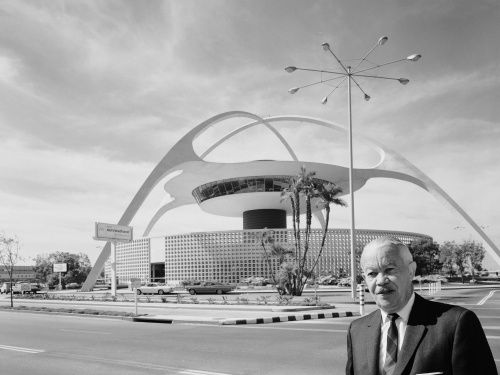 Link to the article about Paul R. Williams