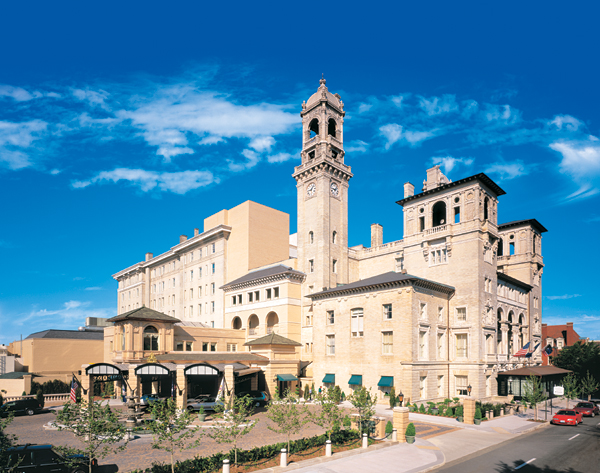 DISTINGUISHED GUESTS

The Jefferson's history would not be complete without mention of the numerous dignitaries, celebrities and notables to visit over the last century.

No less than eleven Presidents. Harrison, McKinley, Wilson, Coolidge, Taft, both Roosevelts (Theodore and Franklin Delano), Truman and Reagan, and both Bushes have stayed at the hotel. Also among the rich and/or famous guests were: Admiral Dewey, Sarah Bernhardt, Scott and Zelda Fitzgerald, Vanderbilts, Whitneys and Barrymores, Gertrude Stein, Sir Edmund Hillary, Charles Chaplin, Nelson Eddy, Robert Mitchum, Ray Charles, Frank Sinatra and Elvis Presley who enjoyed a breakfast of bacon, eggs over easy, milk, no coffee, and home fries, capped off with a scoop of ice cream in cantaloupe. Sergie Rachmaninoff played in The Grand Ballroom and one of the world's most famous dancers, Bill (Bojangles) Robinson, was "discovered" as he waited tables in the dining room.

In recent years, a wide variety of actors, musicians, politicians, professional athletes, foreign dignitaries and other luminaries have visited. Members of the media have also taken an interest in The Jefferson, broadcasting live from the lobbies. ABC Weatherman Spencer Christian stayed at The Jefferson and broadcast his portions of "Good Morning, America" on December 4, 1992 and again during the spring of 1994. CBS news commentator, Charles Kuralt, filmed a segment for his "Sunday Morning " show on November 29, 1987. The Jefferson and its statue of Thomas Jefferson was backdrop for another segment of "Sunday Morning" in December 1994. The subject was the Statute for Religious Freedom.