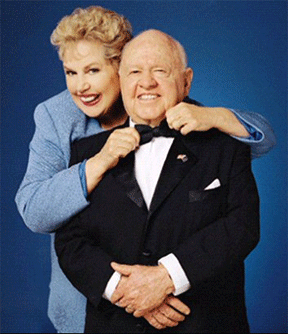 The New York Daily News reports that Mickey Rooney – now 87 – is still going strong! Tonight and tomorrow, he is performing "Let's Put on a Show!" at the Atlantic City Hilton with his wife Jan, as part of his 85th Anniversary Tour!
He is perhaps the only movie star left from Jeanette and Nelson's era to still have an active career entertaining.
Mickey Rooney, as you know, starred in one of Nelson's very first movies, Broadway to Hollywood (1933). Nelson sang one number and was barely seen in the film at all, since all though his number, the camera was busy filming a fight between Frank Morgan and Alice Brady.
I saw the show a few years back and Mickey Rooney is, well, still an energetic if elderly Mickey Rooney! You can't help but be nostalgic for the 1930s when he sings and talks about those MGM years. So, I would recommend that you go if you can, who knows how many more chances we will have to see him perform.
"It was such a different era then," Rooney told the Daily News. "The songs had so much meaning. what Jan and I do is blend talent and multimedia. We sing, we do a little dance, we show some film clips of my early days in Hollywood. I play a piano. Jan sings. And everybody goes away happy. We love doing it."
From the Daily News: "The Brooklyn-born entertainer, who turns 88 in September, says he is up to taking the show 'anywhere they want to see it.' It covers everything from his first movie, Not to Be Trusted, in 1926 to A Night at the Museum in 2006….
"I've always loved what I've done," Rooney says in explaining why he keeps going. "I've done over 350 pictures" – enough to make the Guinness Book of Records this year as the actor with the longest career on both stage and screen. Nevertheless, he is moved when younger actors seek him out.
"I was at the Screen Actors Guild Awards earlier this eyar sitting backstage when Brad Pitt approached me and said he wanted to mee me. Then Angelina Jolie…Then Tom Cruise came by. I was so surprised," Rooney recalls, his voice cracking. "All I ever wanted to do was give people a good time," he says.
Link for tickets and information.
Mickey Rooney's website (which hopefully will have updated tour dates for the rest of the year)