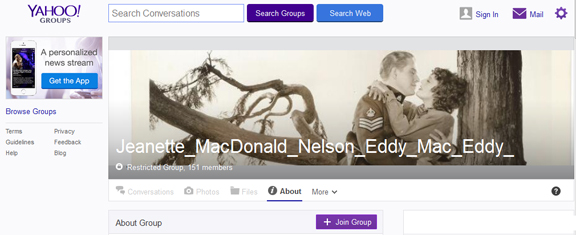 Today is the 11th anniversary of the original Yahoo group honoring Jeanette MacDonald and Nelson Eddy. In a pre-Facebook era, this was the place to chat, post photos and share stories and memories of Jeanette and Nelson. For all these years, the group has been moderated by Bernadette Schwartz.
With Facebook's more user-friendly format in today's times, the Yahoo group has now pretty much migrated over to Facebook at this link. It is still moderated by Bern and the co-moderators include (in alphabetical order): Anne Billingsley, Maria Escano, Angela Messino and Cecilia Rodriguez.
We also have a more general Jeanette and Nelson group on Facebook at this link. Bern is also the moderator for this group and Cecilia Rodriguez is co-moderator.
I want to thank all the gals above and in particular Bern. Moderating any group can be a time-consuming and often thankless task. But these social groups can also be a wonderful place to meet fellow Jeanette and Nelson fans, share photos and knowledge. Such a wealth of information and we're always learning and sharing more.
Long may they wave, our wonderful social media groups. Happy Anniversary!