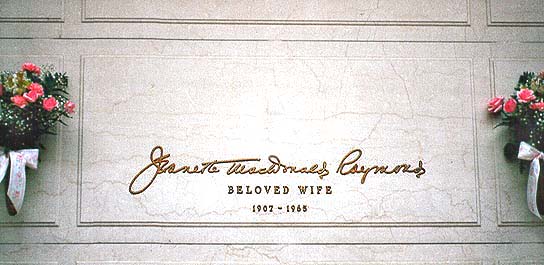 ….Here is one real estate offering that literally is to die for. Scripps Ranch agent Elisabeth Lenderman was perusing a Beverly Hills open-house guide with a colleague. Amid all the stately homes for sale was an ad for "the last private mausoleum" space in Forest Lawn Cemetery, furnished with marble bench, marble flowers, a chandelier and resting places for six people. All for $750,000. That figures out to be about $3,444 a square foot, says listing agent Ray Schuldenfrie.
For that fee, the buyer is assured of being in esteemed company. Within feet are the remains of George Burns, Gracie Allen, Jeanette MacDonald, Clara Bow, Alan Ladd and Nat King Cole. Spencer Tracy, Errol Flynn and others aren't far away. The good news? While the sarcophagus is a resale, it isn't used. The former owners moved back East.
PS: Another soapbox moment here…You can see on the photo above that Jeanette is noted as "beloved wife" and also that her birthdate is incorrectly given as 1907!  Amazing the lengths that certain people went to continue the Hollywood PR, despite the inaccuracies! "They" were still denying that Jeanette was born in 1903 even after I published that Jeanette's sister Blossom had told me that was the correct date… and finally I published the actual baptismal record so folks could see for themselves. In the same breath that they were calling Blossom "a liar" or unreliable due to her having a stroke, they finally had to acknowledge that the 1903 date was correct, and that Jeanette lied on her drivers license, passport, etc., and that her grave was incorrect as well.