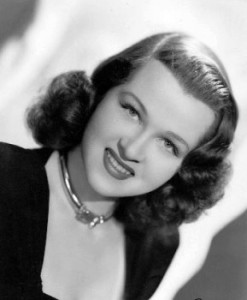 Singer Jo Stafford passed away on July 16, 2008.
As a young girl, she wanted to be an opera singer but during the Depression years, she sang with her sisters in a pop group – "The Stafford Sisters." She later sang with The Pied Pipers. Song of the stars she worked with included Tommy Dorsey, Frank Sinatra, Frankie Lane, Johnny Mercer, Gordon MacRae and – Nelson Eddy!
On February 12, 1951, Nelson Eddy and Jo Stafford recorded "I Love You Truly."
On February 23, 1951, they recorded three more songs: "Till We Meet Again," "With These Hands," and "When I Grow Too Old to Dream."
Click on the links of the February 23 recordings to listen to or download mp3s of these songs.