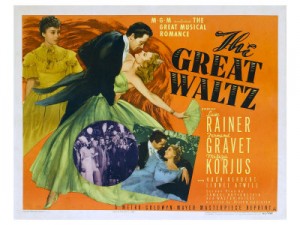 An interesting excerpt from the DVD review today in the New York Post:
Warner Archive also recently released another much-requested composer biopic, "The Great Waltz" (1938), one of several films about Johann Strauss Jr., who's attracted the attention of filmmakers as diverse as Alfred Hitchcock, Walt Disney and Andrew L. Stone.

This black-and-white MGM epic is officially credited to French director Julien Duvivier in his Hollywood debut (the same year his "Pepe Le Moko" was remade as "Casbah"), but major portions are known to have been reshot by Victor Fleming and Josef von Sternberg on orders from Louis B. Mayer, making it an interesting puzzle for auterists.

This one announces in an opening title that it doesn't pretend to be an accurate depiction of Strauss' life. Instead we're offered up a romantic triangle straight out of "The Great Ziegfeld" with the composer (Flemish actor Ferdinand Gravey, borrowed from Warners, which had renamed him Gravet, and announced for an MGM version of "Scaramouche" that would never get made), his adoring wife (Louise Rainer, fresh from her Oscar win for "Ziegfeld"") and a flirtatious soprano (Polish-born Miliza "Rhymes with Gorgeous" Korjus) who helps further Strauss' career ambitions.

This relatively star-light casting for MGM (the studio had considered the unlikely duo of Clifton Webb and Jeanette MacDonald) may have been the reason for the last-minute decision to scrap costly Technicolor for a movie that still looks very, very expensive.

As in "Rhapsody," the story is but something to hang Strauss' melodies on — and here, they get superb arrangements by Dimitri Tiomkin and Englsh lyrics by Oscar Hammerstein II. The most famous, or notorious, sequence (quite possibly directed. at least in part, by Fleming) has Strauss spontaneously inspired to create "Tales from the Vienna Woods" while riding with his soprano through the woods in a carriage (the driver is ubiquitous character man, Christian Rub, briefly seen as the janitor who breaks the news of his teacher's death to Gershwin in "Rhapsody").

Von Sternberg is known to have re-shot the film's climactic sequence. Mrs. Strauss races to the Vienna opera house to confront her errant husband and his mistress, who she knows are planning to run away. Mrs. Strauss (Rainer at her most smilingly tearful) gives the guilty couple her blessing, which she also knows will stop them in their tracks. Somehow this inspires Strauss to write "The Blue Danube" (a nice montage, also reportedly directed by Von Sternberg).

This film ends with an unfortunate epilogue (Fleming?) set 43 years later, when Emperor Franz Josef (an unhappy-looking Henry Hull) honors Strauss, who like everyone else is wearing old-age makeup. That is, all except for the glass-shattering Ms. Korjus, who is superimposed in her youthful glory, singing her heart out at the climax.

Korjus was Oscar nominated for her Hollywood debut but MGM scrapped plans to star her in a musical called "Guns and Fiddles" opposite Robert Taylor after she suffered a serious leg injury in an automobile accident. She made just one more movie, in Mexico in 1942, and died in 1970 in Culver City, Calif., where she made a movie thirty years earlier at Metro.