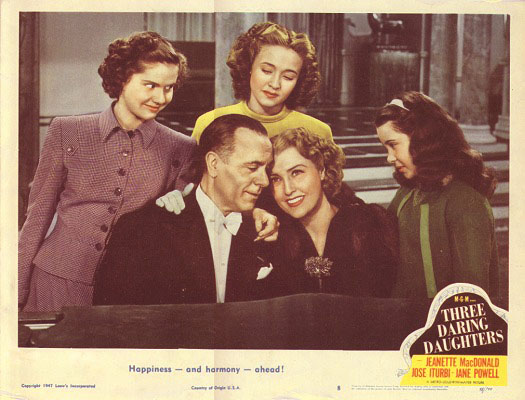 Mother's Day TCM alert! Set your VCR/DVR, etc.!
May 9 – 8:00 AM Eastern Time Three Daring Daughters (1948)
Three young girls try to help their widowed mother find the right husband. Cast: Jeanette MacDonald, Jane Powell, Jose Iturbi. Dir: Fred M. Wilcox. C-115 mins, TV-G
Jose Iturbi ain't Nelson Eddy…but besides seeing Jeanette in gorgeous Technicolor, there are some memorable moments in this wanna-be remake of Deanna Durbin's Three Smart Girls. Watch as Jeanette sings a nostalgic version of "Sweethearts." Also, her duet with Jane Powell (Grieg's "Springtide") is gorgeous. And finally, Jeanette's irritating cruise dining partner "Mrs. Smith" is played by Moyna McGill – better known as the mother of Angela Lansbury!