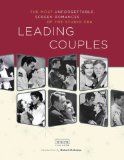 The always wonderful Robert Osborne has a new book out, Leading Couples. And thank goodness he has a very nice section featuring Jeanette MacDonald and Nelson Eddy.
Here's a quote from the book: "Although it has become fashionable in recent years to poke fun at the Jeanette MacDonald–Nelson Eddy musicals, in their day they were more than immensely popular. They were innovative. As much movie stars as they were singers, the pair brought a sense of youthful exuberance to films such as Naughty Marietta (1935) and Rose-Marie (1936) that had been missing in much of the genre. Although the operetta had been a staple in the early talking era, too much bad acting had driven audiences away. Even critically acclaimed adaptations, like director Ernst Lubitsch's witty pictures with MacDonald and Maurice Chevalier, had fallen out of favor. Nelson Eddy's sincerity helped bring back the romantic side of the genre. MacDonald had the good sense to know when to play it straight and when to insert tongue firmly in cheek."
There are a few good photos, one in color, and a slight hint at something more than just friendship between them: "The only real MacDonald-Eddy feud was between their fan clubs." He also notes that Nelson painted a portrait of Jeanette that was used in one of their films but mistakenly identifies the film as Bitter Sweet. It was, of course, Sweethearts.
This is an enjoyable book and another definitely recommended for your Jeanette MacDonald and Nelson Eddy collection!